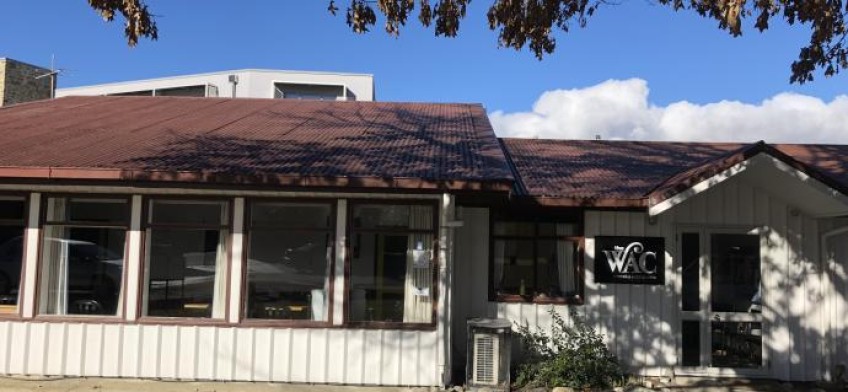 A nervous love letter to the Wanaka Arts Centre
by Laura Williamson - Sep 29, 2018
---
Every Tuesday, I wander up the stairs from the Wanaka Library to the Wanaka Arts Centre to spend half an hour with my guitar teacher. It's often the best 30 minutes of my week, a chance to dedicate headspace, briefly, to something fully removed from work deadlines, bills, car troubles and the state of my lawn.
My teacher is brilliant – she demonstrates the persistence of Shackleton and the patience of the entire New Zealand Warriors fanbase in trying to teach me things like the difference is between semi-somethings and ascending-anythings, and how a fret can be more than just another worry.
Also brilliant is the Arts Centre itself. Set in the centre of the hyper-gentrification that is Wanaka today, it feels like a little miracle.
It is also something I fret about.
The Wanaka Arts Centre opened in the late nineties and has teemed with creativity ever since. Its affordable rooms are places in which artists, musicians and craftspeople can ply their trades without having to give up important stuff, like eating.
Modestly-priced, they are equivalently modest spaces, but the work that emerges from them is anything but – current occupants include an award-winning portrait artist, a violin and cello duo, a very busy bubbleologist (I know right – how cool!), multiple multi-instrumentalists and mixed media artists, and a luthier (a maker of lutes and other stringed instruments, according to Google).
There's also a community room, which on any given day is packed with singers, embroidery groups, painters and all manner of arts-focussed workshopping.
What the centre's users all have in common is a drive to create and, if the NZ Salary Guide's 'artist' listing is anything to go by, a lack of the means to own, or rent a spare room in, a house in the current Southern Lakes real estate climate.
Societies needs spaces like this, spaces that are not flash, not shiny, whose floors are not true and whose window frames are not draught-proof, but that are accessible, achievable, and inspiring; spaces where the fuel for art is low rent and a ready-made community of like-minded people.
History tells us what places like these can achieve. Just ask anyone who played music at CBGB in New York in the 1970s (the toilets were, apparently, toxic, like so toxic even the Ramones wouldn't use them), or who knows about Montmartre's Bateau-Lavoir, where Picasso first lived in Paris, sleeping cramped in a corner of his filthy studio and keeping a mouse in a drawer as a pet; meaning Laundry Boat, the name Bateau-Lavoir referred to the building's tendency to creak and sway like the laundry barges that once floated on the Seine. It became like a Scout Den for artists, if Scouts were ornery alcoholic geniuses who produced greatness despite themselves - legends like Matisse, Modigliani and Otto van Rees soon joined Picasso, and the rest is modernity.
In short, the place was a dump, but it worked out very well for Art. And for Paris. 
Though facilities in Wanaka have rarely reached CBGB-toilet/Laundry Boat levels of decrepitude, there were once a few more "modest" spaces around town. Community radio used to broadcast out of a caravan in an empty lot where Spencer House Mall is, and until recently a wee condemned shack on the A&P showgrounds site was the long-term headquarters for the Wanaka Pottery Group.
As for the Wanaka Arts Centre, back in the day it was the staff quarters for the old THC Hotel, and it still has a bit of a basic rooming-house feel; there's a warm heart there, but you'll want to have a spare jersey on hand when visiting.
I love it, and I love this, from the Arts Centre's website: "We've been supporting our community members in a variety of ways and measuring our success not by monetary gain, but by more qualitative measurements. The encouragement of local groups, old and young is of utmost importance to us."
What I don't love is the uneasy feeling that somewhere in our district, there are, tucked away in a drawer like Picasso's mouse, plans for a shiny development of some sort whose footprint will blot out it all out, a hotel much flasher than the THC, a conference centre where corporate dreams will be woven instead of those of the local embroiderers.
That would be more than sad. Facilities like the Wanaka Arts Centre allow creative communities to flourish in places where the barriers might otherwise be too many, and more and more we live in one of those places.
This is what I think about when I wander up the stairs from the Wanaka Library to the Wanaka Arts Centre every Tuesday, before I get the chance lose myself in music again, for a while.
 Read: Laura Williamson on why the arts are ace.
Read: Laura Williamson on how poetry makes our troubled world better.

---