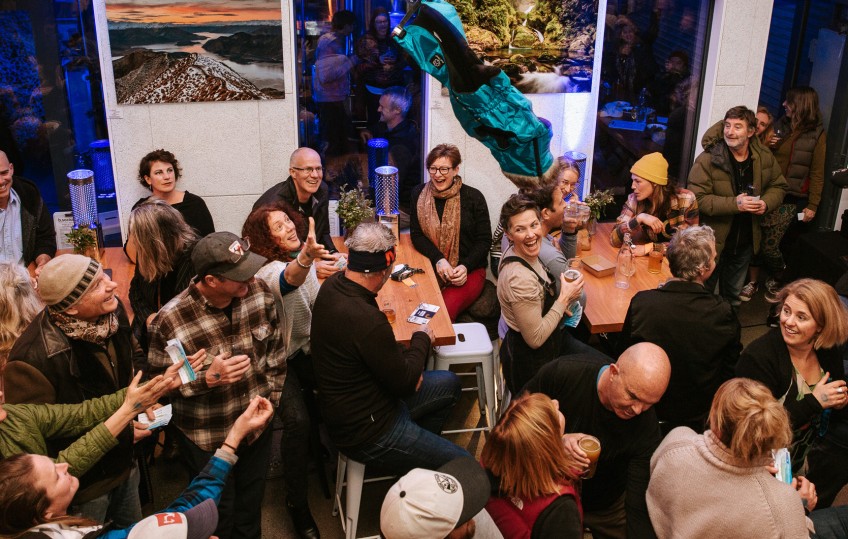 $5,000 raised for Aspiring Avalanche Dogs
Jun 29, 2020
---
From b.social, Wanaka.
"Wanaka's b.social kicked off the ski season in generous style, with its fundraiser event generating $5,000 for local charity Aspiring Avalanche Dogs, on Saturday night.
It was a gratefully received 10th birthday present for the Treble Cone-based registered charity that provides support and succession for four av-dog teams into the future.
The sold-out ticketed event at the Anderson Heights bar, restaurant, and brewery welcomed many smiling skiers and riders, who attended after seeing the elusive sun, while up above the clouds enjoying the area's various mountains that day.
b.social co-owner James Hay says the event had a "great turn-out and was really good timing coinciding with the ski fields opening and everyone catching a few rays!"
The auctioned items, raffle tickets, entry fee and a percentage of the bar takings all added up to $5000, which James and his b.social business partners Matt and Anna Lamming were thrilled to hand over to Aspiring Avalanche Dogs' chairman and founder Matt Gunn.
James says: "The Aspiring Avalanche Dogs is a charity we feel close to and we love the work they are doing. We support them as much as we can, and it is a privilege to work with them and help them. The dogs and their handlers provide a great service to the community, especially many of our b.social customers."
The money raised will go toward the charity's annual insurance and fuel costs, plus support the handlers with the vet bills for their hard-working dogs. Matt Gunn says the funds were hugely appreciated, as Aspiring Avalanche Dogs is a non-profit organisation, which means none of the highly trained dog teams, who are all volunteer members of NZLandSAR Dogs and can be rapidly deployed anytime to help locate skiers, snowboarders, and mountaineers caught in an avalanche in the Southern Lakes region and beyond, receive a wage.
It is not a bad office however, according to Matt.
"We feel fortunate that we do what we do in this amazing place, surrounded by incredible people. We work with our dogs in one of the most beautiful regions in the world. Our reward is being able to bring people home safe from the mountains to their families," he says.
"We are very grateful to b.social and the event attendees for their support. It was a hugely successful evening and we were stoked to be able to introduce a bunch of new people to b.social. Everyone was raving about the venue and it served our purpose perfectly to play the Kiwi hosts and feed our supporters, while they enjoyed a b.effect beer or three!" Matt says.
He presented a slideshow documenting the 10-year evolution of the Aspiring Avalanche Dogs, which "gave people like me, who didn't know how the organisation started, a greater understanding of what an incredible service these dogs and their handlers provide," James explains.
Under the umbrella brand Dropping Inn, which also owns local establishments Urban Grind and the Hawea Hotel, b.social are keen supporters of the Wanaka community and charities. They have also assisted the Wanaka LandSAR team and the Coastguard Wanaka Lakes. Saturday's fundraiser was the first of several community-supporting events and activities they plan to roll out over the coming months.
"We've talked with the Coastguard team and they will be the focus of our next fundraising event post-ski season, around the start of October," James says."
Main Image: A spot prize flies through the air at b.social's fundraiser event for the Aspiring Avalanche Dogs 10th anniversary on Saturday night. PHOTO CREDIT: ANNA ALLAN/ALPINE IMAGE COMPANY.


---