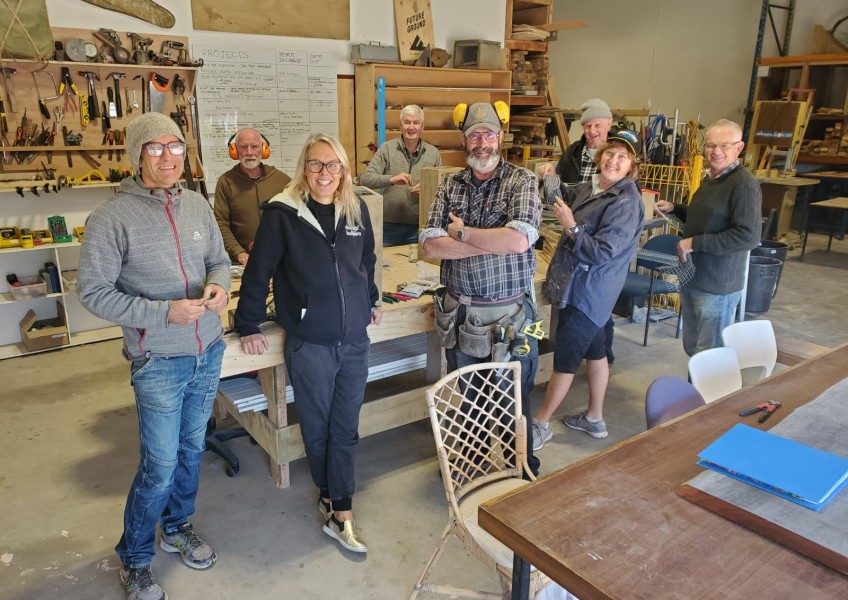 Builders' boost helps community volunteers turn waste around
May 05, 2022
---
A local building business has recommitted to its corporate sponsorship of the Wānaka Community Workshop.
In 2021 the workshop opened with nothing but a plan and a few volunteers.
But Dunlop Builders came on board with a funding injection that kickstarted the community facility.
Ben Acland, who came up with the plan, says it was a massive leap of faith at the time as the building business was sponsoring an idea - the actual workshop was still an empty building when Bryce and Donelle Dunlop brought their staff to the site to hear about the concept.
The MenShed – a group of five keen men handy with hammers and nails – were one of the first to make use of the space, visiting twice a week.
Its use has grown since then.
In February, the Wānaka Community Workshop's busiest month to date, 130 unique visitor days were logged.
Successful small construction projects have included rodent traps, recycling stations, library tables, and food donation bins.
"Corporate sponsorship is vital to the Wānaka Community Workshop," Mr Acland says.
"Grants can be applied for which cover asset purchases and some consumables.
"To pay for rent, rates, insurance - we need cash.
"Dunlop's cash sponsorship has been instrumental in starting the workshop and helping create the culture, and we are very excited to have them onboard for another year."
The Wānaka Community Workshop fills a need in the community for a place where people can access tools, knowledge, and companionship – often across generations - Mr Acland says.
"Our volunteers turn waste into products, but we are not a factory, we are a social group finding friendship and purpose."
Also at the heart of the Wānaka Community Workshop is the environment – a focus on repairing or upcycling broken items and using them for longer, instead of throwing things away and buying new stuff, he says.
Main image (Supplied): Trustee Gwilym Griffith-Jones (front left) and Donnelle Dunlop (on Griffith-Jones' left) join members of the MenShed crew at the Wānaka Community Workshop.


---