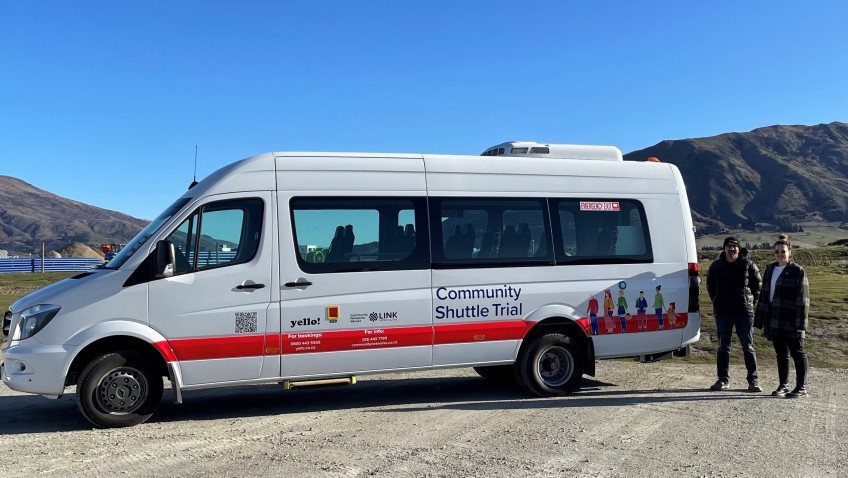 Upper Clutha's first public transport trial ready to roll
---
Residents of the Upper Clutha will have the option to ditch private vehicles in favour of public for the next three months as a trial of a community shuttle gets underway.
A "bus warming" was held this morning for the 13-seater minivan that will roll between Wānaka, Albert Town, Hāwea, and Hāwea Flat collecting paying passengers from tomorrow (Wednesday, September 28).
The shuttle will stop at 13 bus stops and run three days a week - Mondays, Wednesdays and Fridays - for three months.
The trial will provide passenger data to test anecdotal demand for public transport in a part of the district experiencing rapid population growth but currently not provided for by any public transport service.
The Community Shuttle has been developed by Community Networks/Links and will be delivered by local transport provider Yello! (Wānaka Transport Group).
Community Networks/LINK manager Kathy Dedo says part of her organisation's role is to identify needs and opportunities for change in the community and complement existing services and fill gaps.
"In recent years, the issue of public transport has been raised by young people, commuters, older people, and other residents – people who are seeking more affordable transport options or wanting to reduce their carbon footprint through shared transport.
"Over the past twelve months, we have carried out extensive research and preparation for what we hope will be just the beginning of public transport in the Upper Clutha."
Seats must be booked in advance and, although anyone can book a ride, the timetable has been developed to meet the needs of three groups in particular: seniors travelling to and from Wānaka during the day for appointments or shopping; youth travelling to connect with friends or attend extracurricular activities; and commuters in Hāwea and Albert Town wishing to use public transport to get to and from a nine-to-five job.
The Community Shuttle vehicle is a Mercedes Sprinter with a wheelchair hoist, space for larger luggage items and a bike rack on the back – all features that Community Networks/LINK's market research indicated were important features for the community.
Stops en route include the Wānaka CBD, Wānaka Lakes Health Centre, and Three Parks.
Community Networks/LINK community development coordinator Joanna Perry says some tough decisions had to be made about when and where the shuttle will run.
Luggage, Cardrona and Queensberry are all left off the route schedule.
"It cannot be all things to all people...but this trial is as much about data collection as it is about providing a service – so, if the current service is not meeting your needs, tell us why."
Throughout the trial customer feedback will be sought to inform longer term public transport planning by the Queenstown Lakes District Council and the Otago Regional Council.
The trial is predominantly funded by a grant from the Otago Community Trust, facilitated by the QLDC.
Seats must be booked in advance through Yello's website or by phone (0800 443 555), at a cost of $2 per ride.
The timetable is available here.
Main image: Community Networks/LINK community development coordinator Joanna Perry and Yello! owner and operator Ramash Swamy with the custom-built Community Shuttle trial vehicle.


---