Queenstown regular bus service resumes 1 June
by Otago Regional Council media release - May 24, 2023
---
The Otago Regional Council (ORC) is moving back to its regular bus timetable in Queenstown from Thursday 1 June.
The Council has worked with bus operators to ensure the increased services will run smoothly at key times as far as is possible, says ORC Interim Chief Executive, Dr Pim Borren.
"Bus operators have been working hard to bring us a regular timetable in the face of a national shortage of drivers."
"I'm thrilled that we are moving back to our full schedule of services and apologise for the almost 12 months we had to go to a reduced timetable due to the driver shortage, which was a national problem."
"More drivers have been recruited for Queenstown which enables the increase in daily trips. There will be an increase in services, but we ask passengers to prepare for possible cancellations as the new timetable beds in and given the winter flu season is upon us."
The national bus driver shortage led to a reduced timetable being implemented for both Queenstown and Dunedin in July 2022, as happened in other centres around the country.
The updated timetable information will be on the Transit App and the ORC website where passengers would usually find their timetable information and updated information on your bus will be on the screens at the Frankton Hub. Paper timetables will be available at outlets throughout Queenstown.
The new regular timetable information will start to be put up at bus stops from 1 June.
The ORC website will host the new timetables from 1 June. Passengers can use the Journey Planner to plan their trips.
"Otago Regional Council, along with A J Hackett, is also providing free buses for the LUMA Festival which takes place between Thursday June 1 and Monday June 5," says Dr Borren.
Before setting out on their trip, passengers are urged to check for alerts on the ORC website or the Transit app.
A free phone number 0800 672 8778 is also available.
Read more: ORC commits to June 1 deadline as Queenstown's ghost buses decline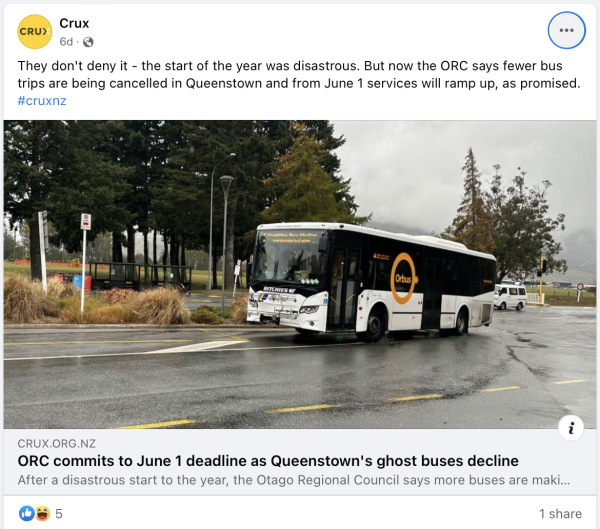 ---