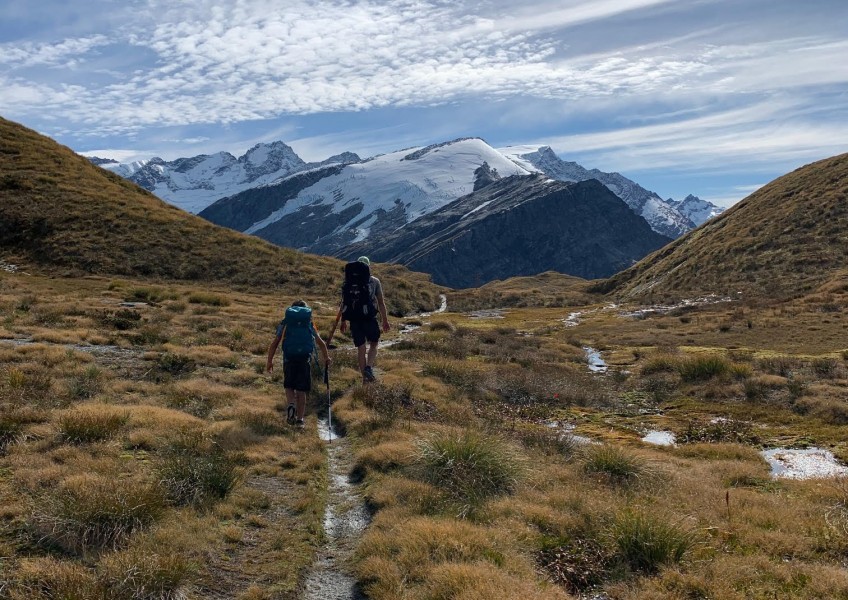 Photo of the Day winner: Photos help families make memories
---
A photo snapped on a phone capturing a Queenstown family's epic outdoor adventure has won Crux's Photo of the Day competition this month.
Wenn-Sze Koh's 'Creating family memories' has finished in the top slot for April, as voted by Crux readers.
Ms Koh will receive a free upsized print of her image, courtesy of the the Wānaka Camera Shop, one of the competition sponsors.
'Creating family memories' will also be in contention to be selected as an overall winner, going head-to-head with the favourite shots from May and June.
The winning photographer over three months will receive a Canon prize package including a Canon M50 Mk II camera, two lenses and a Canon camera case.
Ms Koh says for her a good photo captures a moment in time.
Her winning shot is of her partner and child, snapped while they were ahead of her on a backcountry track.
The family of four (Ms Koh's children are six and eight) tramped from the start of the Matukituki Valley, up across the Cascade Saddle and into Dart Hut, and then out to the Rees Valley.
"For me, it was massive, let alone the kids.
"We will all never forget that beauty and the challenge together. It meant a lot to us."
Creating memories together as a whānau is important, and photos can help with that.
"We love taking photos, and for me it starts with where we are, the moment we are in, and the places we take our kids and ourselves for an adventure - That's what makes amazing photos."
After a break to allow voting for May's images, Crux is back to publishing a photo a day from today until June 20, when voting for the month begins again.
Keen photographers should email entries, including the photographer's name and details of where the photo was taken and the subject.
Crux has received hundreds of high-quality entries, and it's a tough ask to narrow them down to just 20 contenders for the audience vote.
All strong, creative images will be carried through into the following month, but sadly not all entries can be published.
Readers can register to vote for the winning image each month, with voting enabled from the 20th of the month until the month's end.


---