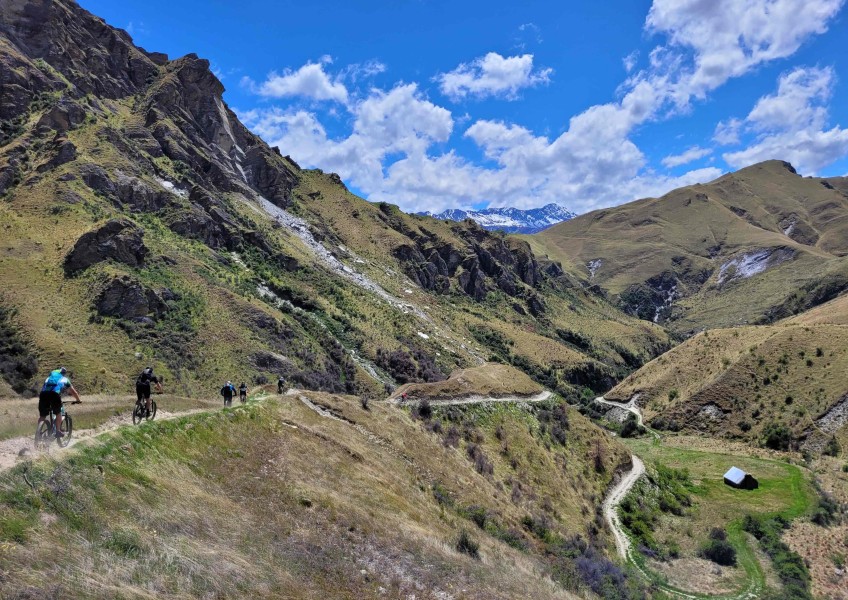 Long-distance backcountry bike loop ready to open
---
After five year's in the making, Queenstown Trails Trust boss Mark Williams has just one more job to do before the ribbon's cut on the region's newest trail.
He'll be out on the track, putting up signs to make sure bikers and hikers know where they're going.
The (approximately) 50-kilometre Coronet Loop will open to the public this weekend, after Covid-19 put paid to plans to give competitors in the Motatapu race event first dibs to it.
Mr Williams reckons the trail is an adventurous addition to what's already on offer in the area.
"It's what Queenstown has been missing - that epic singletrack trail into the backcountry."
Starting in Arrowtown, the trail climbs Bush Creek and crosses the face of Coronet Peak, taking in views of the Wakatipu Basin, before descending the Skippers Pack Track into long Gully.
It then climbs again over Greengates Saddle, before dropping into Deep Creek.
It travels through river gorges and beneath several waterfalls, following relic water races, and passes old sluicing dams and historic huts before finishing back in Arrowtown.
"It goes through some stunning terrain but also some really cool heritage as well."
The track's been graded at a three, meaning it suits intermediate riders, but people who tackle it need to be prepared for a big day out, Mr Williams says.
"You definitely need some experience in terms of backcountry travel, but it isn't a challenging, gnarly trail.
"You need to be prepared for spending a long time in the sun, taking plenty of water, a change of clothes.
"There's obvious risks that, once you're back there, you're quite remote. There are areas where there's no cell phone coverage.
"We're saying a locator beacon is probably good insurance just in case anything does go wrong on the way.
"We're recommending a survival blanket."
Enroute, there's two historic huts – Greengate and Eight Mile huts - offering rough and ready accommodation in the backblocks for bikers or walkers keen to spread a trip over multiple days.
During construction, Mr Williams has been out on his bike flagging the route in front of the digger as it went, opening up land previously inaccessible to members of the public, he says.
The driver of that digger deserves a special shout-out, Mr Williams reckons: A long-time local, Barry Sarginson lived and worked in this remote part of the world to build the trail.
With New Zealand's border still mainly closed to international visitors, the trail will have something of a soft opening, but Mr Williams remains confident the Coronet Loop will be a drawcard when Covid allows.
"We're expecting it to attract a substantial number of mountain bikers and hikers to Queenstown."
The trail's a collaboration between Queenstown Trails Trust and Soho Properties, QEII, and Mahu Whenua Open Spaces Covenant.

Mr William's top tips for biking or hiking the Coronet Loop:
It's a two-way trail, but it's probably best done in a clockwise direction.
At 50-plus kilometres, the trail can be ridden in a day, but there is always an option to take your time and make it an overnight adventure.
Confident mountain bikers have the option of a slight detour before the Skippers saddle to experience the famous Hot Rod flow track. The Dan O'Connell track will bring you back to connect to the loop.
There is very limited mobile reception in this area, be prepared to be self-sufficient.
As with all backcountry missions, a personal locator beacon, basic first aid and repair kit, and survival blanket are strongly recommended.
Water is limited, but you can refill bottles in the many streams along the route.
The trail traverses through an alpine environment and weather can change rapidly. Check the forecast, bring extra layers and tell someone when to expect you back.
Main image (Photo Mark Williams): Bikers descend to Greengates Hut on the Coronet Loop biking and walking trail, the latest addition to the region's network of tracks.


---