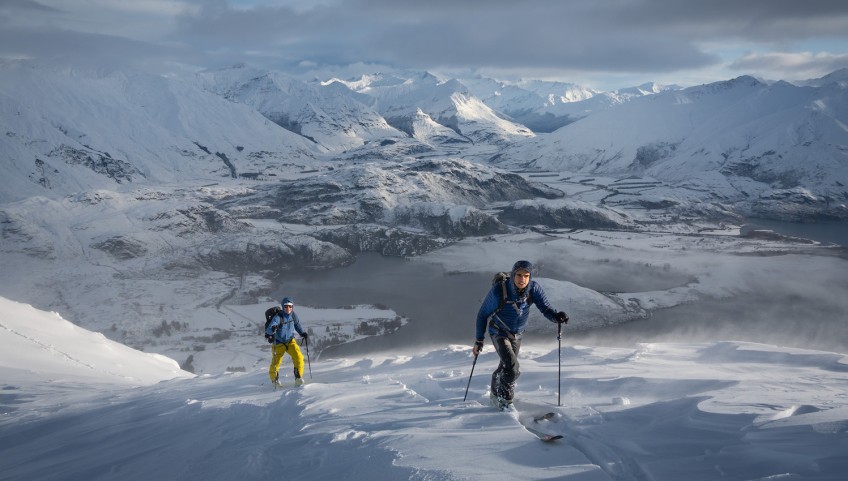 International and local speakers set to wow festival audiences
Apr 03, 2023
---
The speaker line up has been announced for the and includes an exciting mix of international explorers and storytellers as well as some local legends, all set to entertain adventure-loving audiences in Wānaka and Queenstown between 23 and 30 June.
Charismatic duo American Brette Harrington and Canadian Christina Lustenberger will headline the festival programme and wow audiences with tales of some of their daring first ski descents including their most recent and boldest, Polar Moon in Baffin Island, Northern Canada.
The pair skied a stunning, exposed 1200m line through an impossibly narrow and steep chute intersected midway by an ice cliff. But what happens when you're rappelling down a 180m wall of ice and your rope gets stuck with another 45m to go to get to the exit couloir?
Harrington and Lustenberger will be here to tell the tale and show why they are leading the charge in the death-defying sport of ski mountaineering.
New Zealand alpine team member Kim Ladiges will speak about his mission to the Indian Himalayas to try and repeat the West Face of Changabang which was previously climbed in 1976 by Joe Tasker and Peter Boardman and made famous by the book The Shining Mountain.
An internationally celebrated ascent far ahead of its time, many teams have since tried and failed to repeat the wall. Ladiges' team spent nine days on the wall enduring cold, wind, daily snowstorms and each other. 
Book Festival speaker Beau Miles, a self-described oddball who spent years adventuring around the globe, running, kayaking, hitchhiking and exploring will speak about his new lifestyle as 'The Backyard Adventurer'.
Whether it's walking 90km to work with no provisions, building a canoe paddle out of scavenged scrap or running a disused railway line through properties, blackberry thickets and past inquiring police officers, Miles has been finding ways to satisfy his adventurous spirit close to home.
Festival Director Mark Sedon is delighted to share that the Old-fashioned Storytelling session is back on the programme for 2023 and this year includes an all-female line-up. An audience favourite, this is off-the-cuff storytelling at its finest, with comedy, hardship, fun and disaster, all in equal measure.
Harrington and Lustenberger will be joined on stage by Christchurch-based climber Sooji Clarkson as well as Wanaka local, Olympian, freeride legend and film maker Janina Kuzma.
Entries for the NZ Mountain Book competition closed on 30 March and winners will be announced this month. Meanwhile, the deadline for entering films in the internationally renowned film competition is fast approaching on April 20 and many NZ film makers are putting the finishing touches on their world premieres.
Sedon says, "We are always so excited, thrilled and honoured when Kiwi film makers burn the midnight oil to get their films done and allow us the world premiere at the festival in Wanaka."
With more speakers set to be announced in coming weeks, the 2023 festival will once again be a not-to-be-missed event.
The NZ Mountain Film & Book Festival will run in Wānaka from 23 to 27 June, in Queenstown 29 – 30 and films will be screened online in NZ and Australia from June 23 to July 23.


---