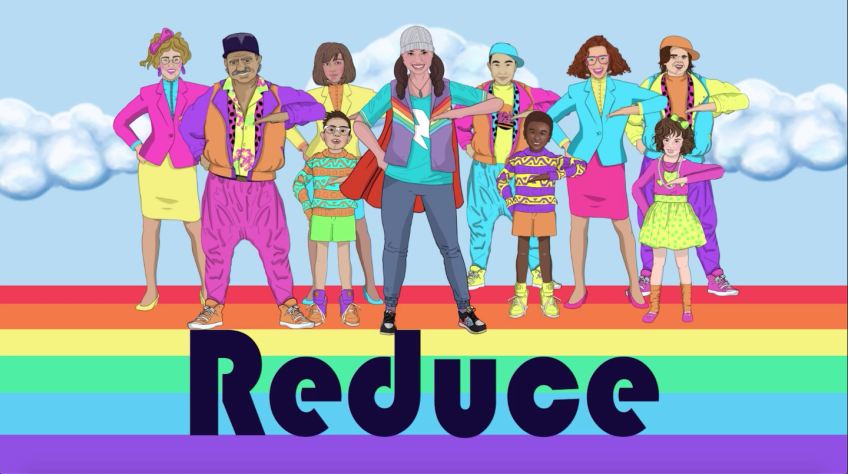 Hāwea's environmental superhero launches new music video
---
New Zealand has its very own environmental superhero and she calls Hāwea home.
Waste Free Wanda, aka Anna van Riel, is on a mission to educate children and their whanau about waste – how to minimise it and how to dispose of it with the health of the planet in mind.
She's set to release an animated music video on Friday, timed to coincide with Plastic Free July.
Named Rule of Thumb, the song shares the "six Rs" – refuse, reduce, reuse, rehome, recycle, and rot – and simple steps anyone can take to reduce single-use waste.
The song is created by Ms van Riel, a singer, songwriter and performing artist, and co-written with award-winning Kiwi Children's artist Kath Bee and New York's Katie Herbst.
It's been supported by the help of NZ on Air Music and the Southern Institute of Technology's creative suite.
In the music video, an animated van Riel, takes viewers through the actions to help reinforce the six Rs, with an 80s-inspired beat to get kids grooving.
It includes the "hard-case characters" introduced in the official Waste Free Wanda music video, launched by Ms van Riel last year, and brought to life by Invercargill's Meek and Wild Creations director Traci Meek and her team.
"Koro sporting his high tops and poo pants and kids in fluorescent jumpers appeal to today's tamariki, while making true kids of the 80s chuckle at the flashback."
Wanda is set to hit the road to close out Plastic Free July with a Deep South tour, where she'll be heading as far south as Bluff.
Waste Free Wanda is also a touring stage show and has so far reached more than 11,000 tamariki.
"Having fun resources like this music video help children to remember the fun waste-free philosophies within the show, and share them with their whanau," Ms van Riel says.
"It gives them a place to release some of the growing concerns around eco-anxiety and also enables the arts, by encouraging children to sing and dance."
Both music video and tour are celebrated alongside the launch of Waste Free Wanda's brand new website, which offers free educational resources for at home and at school, as well as a place to find all of her music and videos.


---