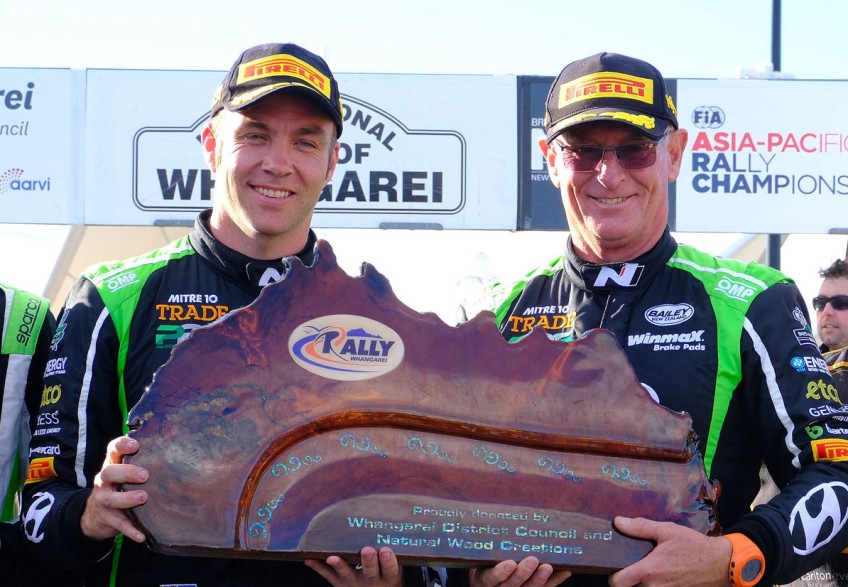 Cromwell driver wins 2023 International Rally Of Whangārei
May 15, 2023
---
Cromwell's Hayden Paddon and co-driver John Kennard have won the 2023 International Rally of Whangārei in their Hyundai i20N Rally 2 car, finishing 3min35 ahead of Ben Hunt and Tony Rawstorn (Skoda) while Rana Horan and Michael Connor finished third (Skoda).
The fourth round of the FIA Asia Pacific Rally Championship (APRC) it was also the final round for the sub-category Pacific Cup. Paddon's successive point scoring reinstated him as champion and was awarded the FIA trophy by representative Mr Wayne Scott.
It's Paddon's eighth win in Whangārei – his first was in 2007.
"I'm really proud of our team and being able to take the Pacific Cup again – against strong competition like Ben and Rana," said Paddon after the finish.
"The event has been nice to us over the years so are honoured to make it win number eight and we look forward to next year. It was a flawless effort from the team. The car ran perfectly, so is a credit to their performance from the workshop to the event."
The disappointment continued for Shane van Gisbergen and co-driver Glen Weston when they went off the road on the third stage of the morning. Competing for the experience, van Gisbergen's day started with a spin on the opening stage before setting second-fastest time on the second.
Following heavy rain in the week leading up to the event the rally ran as scheduled – including the city-side Pohe Island publicity stage. The event covered eight stages to the north on the Saturday and six to the south on Sunday, totalling 707.99km – 225.80km being competitive sections. Attrition was high with 21 of the 48 missing from the finish.
Returning to Whangārei's Pūtahi Park in the Town Basin, the city's mayor Mr Vince Cocurullo was on hand to celebrate with the finishers. The top three also received prize money provided by Indian businessman and promoter Vamcy Merla. Paddon's team was awarded NZ$3,000 for the win, $2,000 for Hunt and $1,000 for Horan in third.
Also the second round of the Brian Green Property Group New Zealand Rally Championship (NZRC), the local teams now return to the South Island for the third round – the 17 June South Canterbury Rally. While Paddon leads the series, he will miss the next round.
The title deciding final round of the APRC will be held at Indonesia's Danau Toba Rally – 24 to 26 November.
Main image (Supplied): Paddon wins 2023 International Rally of Whangārei


---