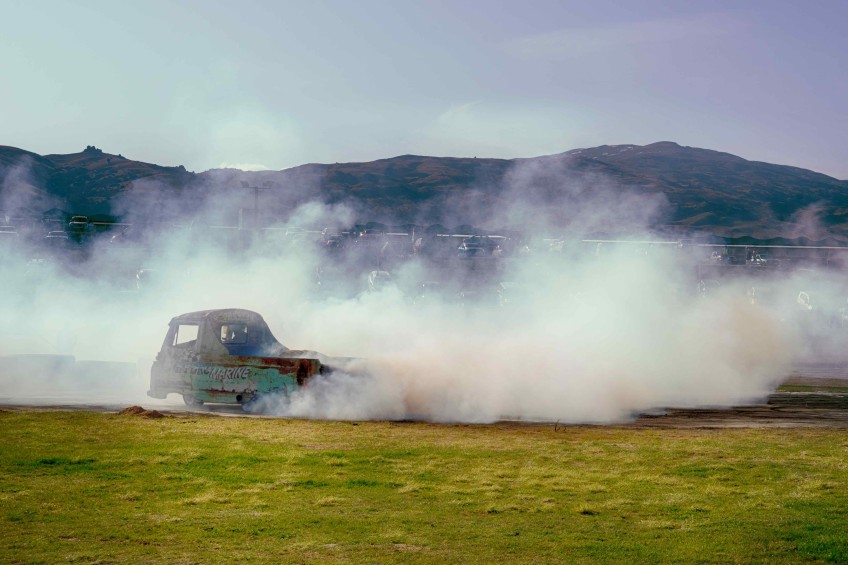 Local petrolhead smokes the competition at Cromwell burnout contest
Sep 27, 2022
---
A Central Otago car fanatic has smoked his rivals at Central Motor Speedway's annual burnout competition on Saturday.
Against stiff competition, Che Watt and 'Slug' - a 1957 Austin J2 rescued from a paddock - earned top spot at the event.
Mr Watt says he is relatively new to competing, and he's found the sport to be highly addictive.
He discovered Slug in a paddock in Earnscleugh and built it up specifically to spin wheels, shred tyres and produce smoke in burnout competitions.
The ute now sports a Chev motor, old-school two-speed transmission, new chassis, radiator in the back, big fans for cooling and "a whole heap more", he says.
Judges scored both Slug's performance and Che's driving skills over three rounds, and the pair were announced winners on the night.
Second place went to Gareth Matthew in his Holden 1 tonner, and third place to Craig Roberts in his 1979 RX7 Mazda.
Central Motor Speedway president Andy Erskine says this year's burnout competition was a great show.
The speedway, on the outskirts of Cromwell, neighbouring Highlands Motorsport Park, has a purpose-built burnout pad that offers great views to audience in a safety controlled environment.
"Competitors and crowds came from throughout the South Island for a fun evening. It was also a chance for us to give our operations a dress rehearsal for the upcoming season."
He says it was pleasing to see so many young drivers take part in the practice racing, giving fans a taste of the excitement to come.
"Our youth mentoring programme is working well. There was a fantastic turnout for the youth grades, and those who have just stepped up into the adult grades showed they've got what it takes to challenge experienced racers.
"It's going to be a very interesting season."
Main image (Supplied/Mary Hinsen): Che Watt and 'Slug' smoked out the competition at the annual burnouts in Cromwell.


---