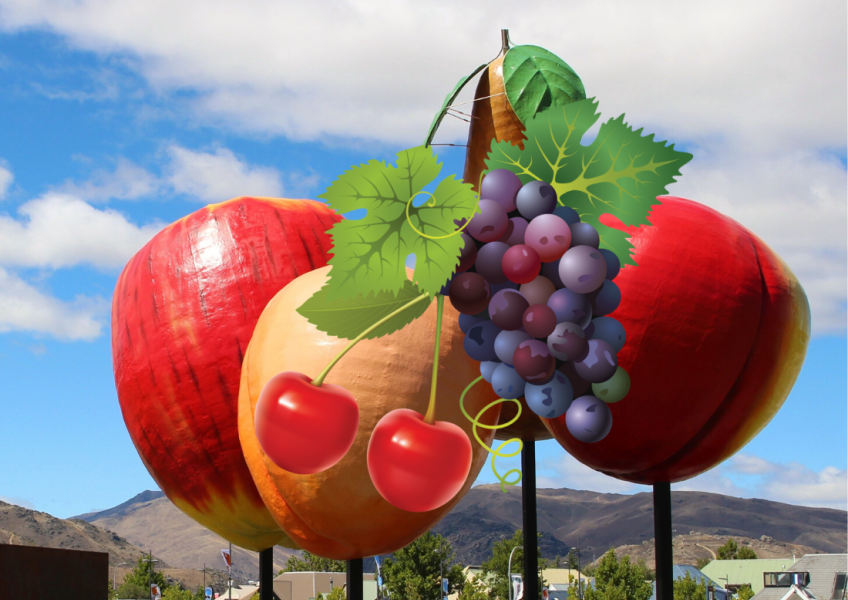 Cherries & grapes elected to the Big Fruit in landslide poll
---
The people have spoken and the result is clear - Cromwell wants more fruit. No longer content with just the big four (apple, pear, peach and apricot), a Fusion Facebook poll has revealed an appetite for more - namely cherries and grapes.
We asked, "Cherries and grapes are a big deal in Cromwell. Should they be honoured with a spot on the Big Fruit?" Of more than 1800 votes cast largely by Cromwell residents, 79% were in favour of the addition. The poll was shared across various Cromwell community pages and also attracted a raft of comments, mostly in support.
Some expressed disappointment that cherries weren't included in the original design, "I can't believe they never included cherries in the first place, as they have always been a fruit that's known to grow in Cromwell", one commented.
Others were more concerned about what's going on beneath the fruit, after shrubbery was removed during the restoration a few years ago. "I just wish there was a bowl or something. Fruit on a stick?" was one resident's observation.
Some were less supportive and were worried about the cost. "Before we can say if we want this changed - or not - we need to have some rough idea of how much it will cost and who will pay for it! We can all say yes to an ideal vision, but reality sometimes changes our minds!"
The sculpture was designed by Otto Muller, built by the Cromwell Rotary Club and handed over to the Central Otago District Council in 1990. Whether cherries and grapes make an appearance in future is unclear, but with such strong support, we think they'd make a pear-fect addition, so the council should apple-solutely make it happen. In the meantime, Cromwell residents will just have to go without their five plus a day.


---