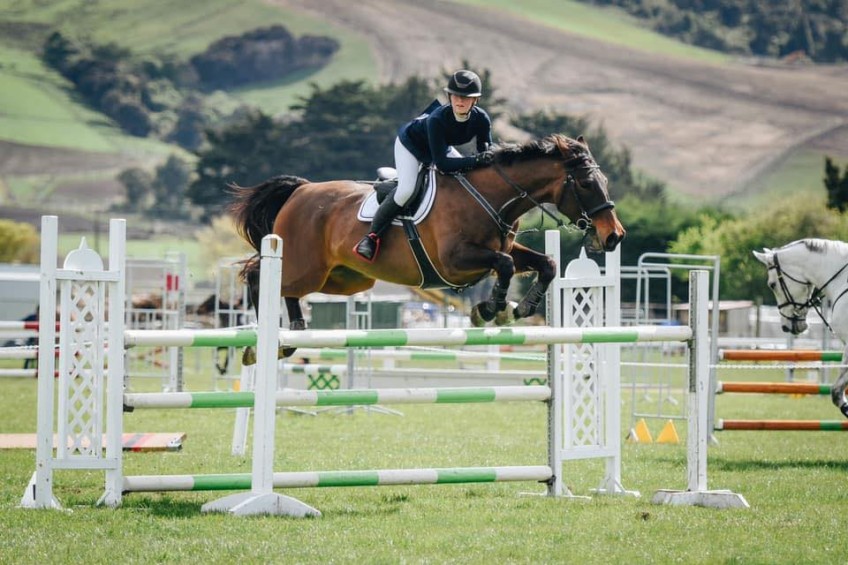 Young local riders headed for Morocco
---
A horse-loving teen from Wānaka is among a select group of up-and-coming riders heading around the world for a show-jumping boot camp.
Fourteen-year-old Sarah-Jane Berben's heading to Morocco in Easter to learn from some of the world's best in the equestrian sport.
Joining her will be another local rider - 20-year-old Molly Todd (pictured above), of Tarras.
The pair both ride with the Hāwea Wānaka Pony Club.
Sarah-Jane's been having riding lessons since she was little, and she loves horses - the Mount Aspiring College pupil says she'd hang around at the centre all day, brushing or stroking the horses.
She "learned everything she knows" about show jumping from her old horse Levi, she says.
Miss Todd says she's been show jumping for approximately five years.
She's up in the North Island for university now, but back home in Tarras she "brings up young horses".
Buying one "ready to go" is expensive, she says.
She has a breeding mare, and a foal that's two years old and one set to be born.
Morocco has a strong riding community, and she's stoked it's also a new and exciting part of the world to travel to too.
"I've only been to Australia before."
Of the equestrian sports, show jumping's a good fit for her, she says.
"It's fast-paced...and you get more than one try to get it right."
She's keeping her options open with a university degree, but a career in the sport's a dream, she says.
The Central Otago riders join nine other young show jumpers from New Zealand heading on the tour, which is being lead by Lucy Olphert, a New Zealand show jumping rider and coach based in Queenstown.
She's been running the trips for eight years and has just re-introduced them post Covid travel restrictions.
"These riders, they get to experience not just the training side of things but also experiencing another country - the culture, the language, the food. Morocco is probably one of the most unique destinations that I've ever been to."
The tour also gives the young riders a "foot in the door" for future opportunities in the sport, she says.
"I've got 30-odd years behind me of experience in the industry. So, it's really about passing on some of my contacts and connections to help others get that same experience."
Main image (Facebook): Molly Todd rides Oraha Lilly in the Junior Rider show-jumping competition - jumps in this competition range in height from 1.25m to 1.35m.


---