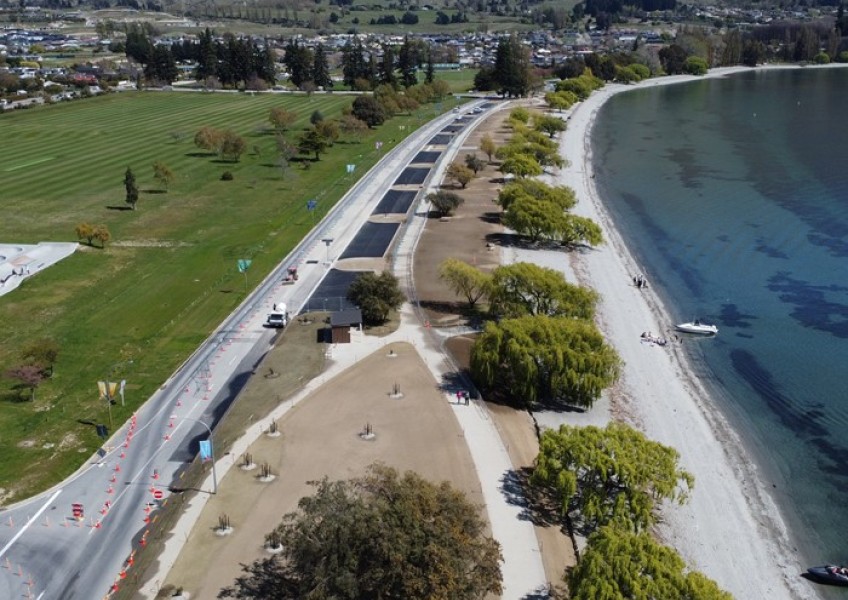 History tiles back in Wānaka from next week
by By QLDC media release - Jul 20, 2023
---
Work is set to get underway next week to install historical tiles along Wānaka's lakefront as part of finishing touches to Stage Two of the Wānaka Lakefront Development Plan.
The tiles mark the completion of a reimagined Millennium Pathway. The newly named Te Ara Maumahara acts as a memory lane or path, noting significant events to have taken place in the world, Aotearoa New Zealand, and in Wānaka and the Upper Clutha between c.1000 – 2000.
Queenstown Lakes District Council community services general manager Ken Bailey shared his anticipation for the landmark taking its place in amongst the upgrades completed on Wānaka's lakefront last year.
"Te Ara Maumahara provides an amazing opportunity to acknowledge those who have come before us and the moments that matter, both here, throughout Aotearoa, and out in the big, wide world," Mr Bailey said.
"Once these tiles are in place, I'm sure residents and visitors alike will find their strolls along the lake's edge that much more enjoyable with a bit of a blast from the past added into the mix."
Some 645 etched historical tiles will be installed next to the shared pathway that runs between McDougall Street and Dungarvon Street, each one marked with symbols denoting the event or events that took place, and whether it was of international, national, local or Kāi Tahu significance.
Several different designs of the tiles were etched and tested to make sure Te Ara Maumahara meets community expectations, with a working group formed in 2022 to work on the reimagined landmark and to honour and protect the original legacy of the now-deconstructed Millennium Pathway.
Mr Bailey acknowledged the dedication and generosity of Dr Michael Stevens, Ed Waddington, the Upper Clutha Historical Records Society, and QLDC Parks Officer Diana Manson in helping to shape what promised to be a feature many would continue to cherish on Wānaka's lakefront.
"We've had amazing contributions from the community to make sure Te Ara Maumahara showcases an extensive breadth of information relevant to Wānaka and the Upper Clutha, and celebrates our little place in the world," said Mr Bailey.
"Furthermore, this feature wouldn't be possible without the amazing work undertaken by caring and committed members of the community who first envisaged and then created the Millennium Pathway."
Work to install Te Ara Maumahara will start on Monday 24 July 2023 is expected to take four-to-six weeks to complete. Installation is weather dependent, with temperatures required to be above five degrees Celsius for the tiles to be laid successfully.
Sections of the shared pathway on Wānaka's lakefront will be temporarily closed while tiles are being installed, but an alternative route provided alongside the pathway for pedestrians to use.
Main image (QLDC): A view from above of construction work to revamp Wānaka's lakefront.


---