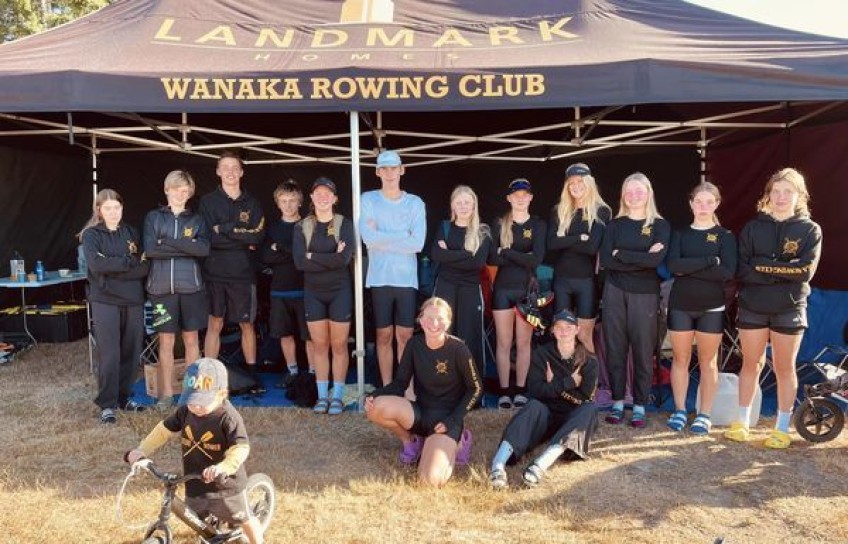 Successful weekend for dedicated Wānaka rowers
Feb 01, 2023
---
Rowers converged on Lake Ruataniwha near Twizel this weekend for a big few days of competitive racing to decide the South Island's best. The following regatta report has been written by school-aged Wānaka Rowing Club rowers Isabella Noble-Kirkbride and Annika Massey.
A total of 28 Wānaka rowers competed against a large number of competitive athletes from all across the South Island last weekend at the Meridian South Island Club Championships. Our scullers competed in 85 events across many different age groups.

Overall the weather conditions were perfect for racing - flat water with the sun making an appearance on Sunday.

The club as a whole made it into ten A-finals and eight B-finals, coming away with some great results and new personal best times.

The novice girls competed in the U15 age category as well as a few novice events, with some quite impressive results. One of their best races was the girl's U15 coxed octuple sculls, where they finished fifth in the A-final, improving their time by a whopping 26 seconds. This crew consisted of Lucy Radford, Nova Whiston, Sienna Marsden, Hana Jones, Fenella Millen, Ellie Berry, Neve Twiname, Catie Pascoe and coxswain Holly Brooks. The girl's U15 double sculls crew of Lucy Radford and Nova Whiston also placed first in their heat making it to Sunday's A-final.
Does your club have news you'd like us to share? Email it through to [email protected]
The women's intermediate coxed quadruple sculls event went well for Wānaka, with the crew of Lola Ritchie, Annie Wells, Annika Massey, Kate Ritchie and coxswain Lucy Radford, who placed first in their heat, moving on to place first in their A-final, and improving their time by eight seconds. This meant that they took home the gold. Another crew (competing in the same event) of Chloe Murray, Abbey Pedersen, Izzy Edmond, Isabella Noble-Kirkbride and coxswain Holly Brooks placed sixth in their heat, going on to compete in the B-final on Sunday.
Annie Wells and Annika Massey placed first in their heat in the women's intermediate double sculls, going forward to place third in their A-final, with a 13-second time improvement, taking home bronze. Competing in the girl's U17 double sculls, Lola Ritchie and Kate Ritchie made it to the A-final, placing seventh overall.
Jessica Gould competed in the women's intermediate single sculls for the first time, placing eight, an extraordinary achievement for her first ever single's race.

Rowers from Cromwell and St Thomas's lent us a helping hand in the Men's Club coxless quadruple sculls where the crew qualified for the A-final. The athletes in this crew were Jem Curtis, Michael Zhang, Taine Borthwick and Philip Massey. Also competing in the U17 category, Philip Massey improved his singles time by 10 seconds, placing fourth in the B-final.
Anton Jones and Torben Craig were also strong contenders, placing 5th in the A final in the men's intermediate double sculls. Fifteen-year-old Sam Edmond rowed in the U17 single sculls event, placing 8th in his heat amongst some tough competition.

To wrap up our impressive results, our masters proved to be dominant in their fields as well. Dana Leishman placed first in her heat in the women's intermediate single sculls, moving on to place second in the A-final; taking home a silver medal. She also improved her time by four seconds; a notable feat in a single. Kahn Cawte, another Wānaka master, competed strongly in his men's intermediate single sculls event, where he placed second in his heat and 10th in his A-final.

Some of the many highlights of this exciting weekend included seeing our previous coach Rob Bruce volunteering his services over the weekend umpiring at the regatta, as well as making use of the new and improved boat trailer. In addition to this, athlete Jessica Gould and her father (and parent help), Brad Gould celebrated their joint birthday on the 29th, the second day of the successful regatta.

Finally, a massive thank you to all the coaches and parent helpers who gave up their valuable time to support the athletes over the weekend.
See the full race results and regatta images here.

Main image (Supplied): Wānaka Rowing squad outside their team tent at the Meridian South Island Rowing Champs at Lake Ruataniwha near Twizel.
Does your club have news you'd like us to share? Email it through to [email protected]


---