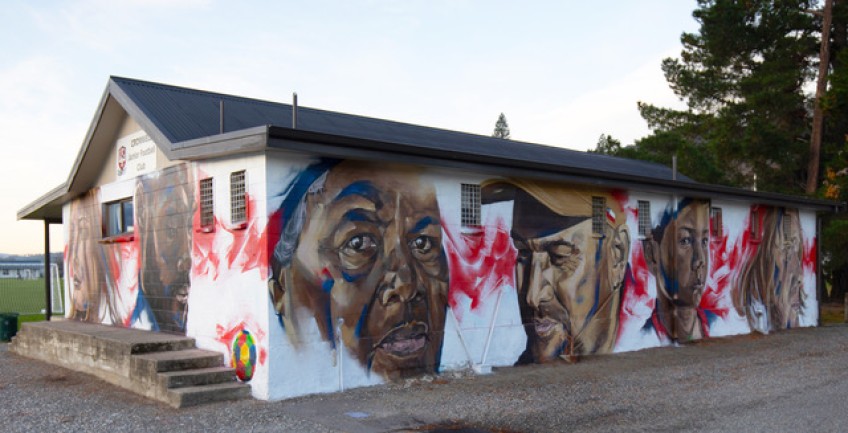 Central Otago street art celebrates diversity
May 26, 2023
---
Frequent users of the Alpha Street Reserve in Cromwell have been treated to a creative transformation of the Alpha Street Pavilion over the past couple of weeks.

The large-scale street art features the faces of our community and acknowledges the role that sport plays in bringing people together. Subtle symbolism in the work references those themes.

Central Otago District Arts Trust (CODAT), in partnership with Central Otago District Council's Welcoming Communities commissioned the artwork.

The Trust recognises a growing enthusiasm for public art projects across the district, CODAT coordinator Rebekah de Jong said.

"The Cromwell Multicultural Mural was an ideal opportunity to continue to support diverse art genres by bringing a street art project to the community."

Welcoming Communities supported this project through a grant from the Ministry of Business Innovation and Employment to support connections between newcomers and members of the community. Former Welcoming Communities Officer Deborah Beange said "We're proud of how this art celebrates the many different nationalities who have made Cromwell their home."
The renowned street artist "Ling" has strong ties to Cromwell and was thrilled to explore and nurture those connections to the community.
"Spending time in the community and listening to the comments of those who stopped by reinforced the level of interest in the project," the artist said. "It shows how much the community cares."

Ling met individually with each of the people featured in the art and commented: "Those interactions are important as it allows individual personalities to come alive. Portraits involve exploring both the physical attributes and the personality behind the face."
He said it was "nice to celebrate and reinforce how multicultural Cromwell is".
"I've enjoyed sharing stories and being part of welcoming people into the community through this artwork."

Going by the feedback so far, the art has been well received by the community and will stand the test of time, providing a launching pad for even more adventurous projects in the future.

While the artwork is complete, an interpretation panel is still being developed to provide further insight into the people behind the faces and highlight some subtle references that may not be obvious at first glance. A ceremony to unveil the mural will be planned for June.
Main image (Supplied/Central Otago District Council): The Alpha Street Reserve in Cromwell has had a creative transformation. A ceremony to unveil the mural will be planned for June.


---