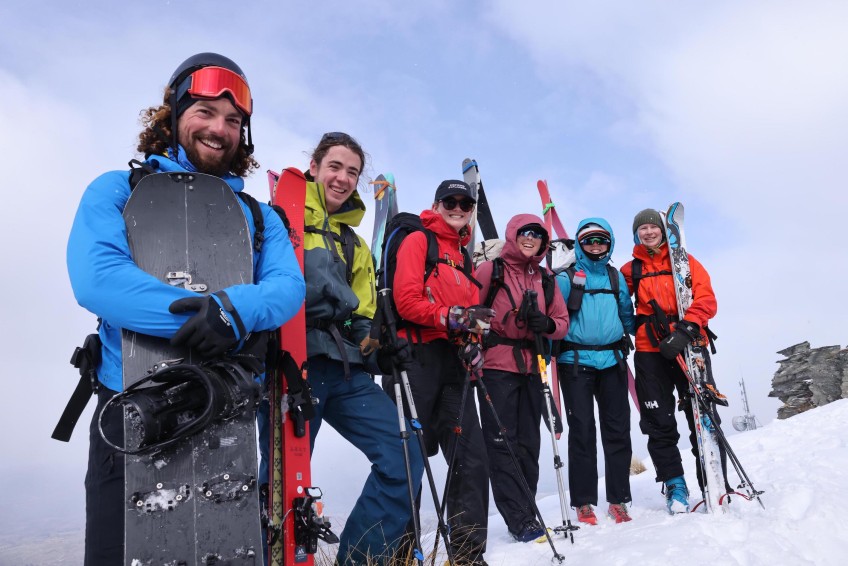 Queenstown backcountry helps young Kiwis channel spirit of polar exploration
Sep 08, 2022
---
A team of six young New Zealanders have completed a gruelling 50-kilometre journey on skis through the Harris Mountains between Treble Cone and Coronet Peak.
Two high school students from Wakatipu High School, were a part of the group, who were all aged between 18 and 30 years and hailed from across the country.
Their five-day backcountry journey was led by Antarctic Heritage Trust director Nigel Watson.
The trust's "Inspiring Explorers Expeditions" create opportunities for young change-makers of tomorrow to connect with and be inspired by the qualities of Antarctic explorers such as Sir Ernest Shackleton and Sir Edmund Hillary.
"It was amazing to see our Inspiring Explorers step out of their comfort zones, overcome challenges and work as a team – all things the early Antarctic explorers had to do," Mr Watson says.
The alpine route boasted terrain with lots of vertical, that tested the young people.
"The group had resilience and grit, truly embodying the spirit of exploration.
"We've had to delay this traverse a few times due to snow conditions and the Covid-19 outbreak, so the team have really been holding out to get their skis on the ground and make this happen."
Wakatipu High School year 13 student Zoe Crawford says her biggest challenge during the trek was the steeper terrain.
"I wasn't super comfortable, but I knew I was safe, we had good equipment, and experienced guides, and that really helped me through that.
"To push outside my comfort zone is definitely scary but I'm super proud of myself for overcoming any fears I had."
For Emily Wilson, a seasoned explorer and diabetes awareness campaigner, exploration is important because it's about facing the unknown.
"It's about building resilience and confidence in yourself to face things you might not expect. It helps us grow as people and be better versions of ourselves.
"I love being an Antarctic Heritage Trust ambassador. I feel like you can inspire others through actions - it's all about the small things and embodying the change you want to see.
"I feel excited about the future and being able to get out and inspire young people to explore more."
Fellow Inspiring Explorer Isaac Giesen was the first Kiwi to row across the Atlantic Ocean solo, taking 70 days in total, while raising funds for depression and mental health along the way.
He was also the first person from the Southern Hemisphere to row across two oceans in one year.
"I've lost a number of friends to suicide - they didn't want to live - so for me, exploration is just being a part of it and going out and living life."
Travelling with the team was the brains behind the Mahu Whenua Traverse, Erik Bradshaw, the founder of the Mountain Turk Club.
The trek featured Turk accommodation – 26,000-litre water tanks converted into huts created by Mr Bradshaw, which he helped the Antarctic Heritage Trust pioneer use of in Antarctica, at its field camp established to support the conservation of Borchgrevink's huts at remote Cape Adare.
"The Mahu Whenua Traverse is a world-class alpine route through Coronet Peak Station and public conservation land. It is serviced by five Turk huts which are all positioned on Coronet Peak Station, meaning adventurers are never too far from safe shelter should weather conditions deteriorate."
Main image (supplied): The team of young 'Inspiring Explorers' after completing the Mahu Whenua Traverse.
Watch Erik Bradshaw share the story of his unique backcountry huts in this earlier Crux Southern Lens documentary.

---