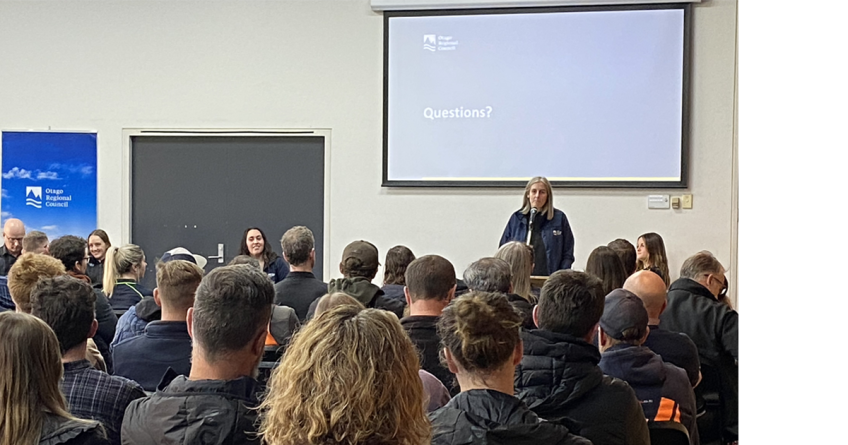 Pilot ORC earthworks event in Queenstown successful
by Otago Regional Council media release - Jun 16, 2023
---
A pilot earthworks regulation information event held in Queenstown this week was so well attended the Otago Regional Council now plans to roll the event out across the region.
ORC's Manager Compliance Tami Sargeant says the event was targeted at developers and contractors involved in earthworks and construction, rather than the public, to give them a chance to ask any questions and receive all the answers at once.
"These professionals were able to listen to an overview on the role ORC plays in earthworks and developments, both small and large-scale, and have access to our Compliance, Incident Response, Contaminated Land, Investigations, and Catchment Advisor teams."
Presenters provided information on ORC rules, why it's important to protect our rivers and waterways, and good practice advice for on-site sediment controls.
"It was great to see the really good engagement, networking, and the wide variety of contractors and service providers coming to hear about ORC's rules," says Mrs Sargeant.
"This was a pilot for the Queenstown Lakes District. We'll now look to roll out similar events into other districts within the region given it's proven itself to be a great way to communicate our rules and the reasons why we have them to improve environmental outcomes."
A comprehensive Earthworks Guide was recently launched by ORC specifically to assist developers, contractors, and service providers in the construction industry, which can be found here:
Further assistance on consent processing is available at [email protected] or by calling 0800 474 082.
Main image: Otago Regional Council's manager compliance Tami Sargeant at Queenstown's earthworks event, 13 June.


---