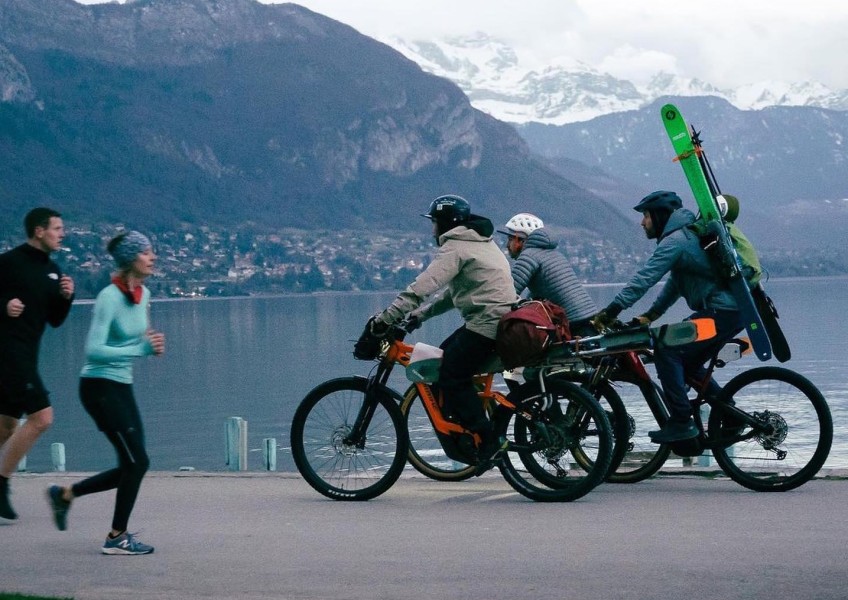 Pain-free bike travel a winner for Arrowtown e-bike festival organiser
---
Queenstown's first supplier of e-bikes, Campbell Read, the co-founder of ChargeABout NZ and the eBikeStudio, has just received a container load of new bikes.
It's perfect timing as he's setting up shop on Butler's Green in a few weekends' time to give locals a chance to experience boosted pedal power for themselves.
It's part of Cyclorama - an e-bike festival being hosted in Arrowtown over Labour Weekend.
A festival village hub will pop up on Butler's Green for the two-day event, offering "free fun stuff" promoting all things e-bike.
Mr Read says there's already plenty of e-bike converts in the district, with take up of the new-technology bikes greater here than almost everywhere else in the country.
A well-established and growing network of trails helps, as does a relatively fit (and affluent) aging population, and a culture of recreational time spent in the great outdoors, he says.
"It's hard to resist. Why wouldn't you want one? There's so many different places to ride."
Arrowtown resident Dave Gibson's one of those converts, and he's the driving force behind Cyclorama.
The first festival of its kind in the country, Cyclorama's offering six curated trail rides that explore the district.
With creative names that hint at their appeal – Tour de Gourmet, Pedaling Pinot, Ginology, and Awake with the Birds, among them – the trails are designed to be fun and e-bike friendly for locals and visitors.
But Mr Gibson says an aim of the festival is to get locals thinking about e-bikes and how they can be part of a daily commute rather than reserved for weekend recreation only.
"I think I'm a pretty good example – I live just out of Arrowtown."
With an ordinary bike, the hill into town, and the subsequent workout and workout sweat involved in pedalling up it, has put him off riding into town.
But having an e-bike's changed that, he says.
"With an e-bike, now, I'm much more inclined to go into town, to go out for dinner."
E-bikes enable pedal power to be used as a viable way to get from a to b for more people, more of the time, he says.
Cargo-bikes – that allow for easier transport of little people and gear - will be another gamechanger for active transport in the district, he says.
He's hoping there'll be some available for people to nosey at during the festival.
Mr Read reckons Wānaka's bike-mad community has especially embraced the cargo-bike trend.
You're much more likely to see a family riding to school or the shops on a cargo bike over there than in Queenstown, where they've been "slow to kick off", he says.
The town last weekend hosted an opening event for Biketober, a month-long campaign aimed at getting more people to travel by bike.
"It was awesome to see all sorts of cargo bikes goofing around there," Mr Read says.
"There's a greener, progressive, younger bunch of people getting out on cargo bikes."
One limiting factor to uptake: the financial cost.
There's no sign of e-bikes getting any cheaper – good ones, anyway, Mr Read says.
"If anything, because of the US dollar they're getting more expensive. And, of course, the demand for lithium ion batteries is high."
There are some cheaper options on the market, but he cautions their value in the long run.
"It's that sort of situation where as soon as you start having to repair your brakes, and your wheel bearings, and then you realise: 'I may as well throw it away and put it in the dump and get another one' - That's not a sustainable option.
"It's worth spending the bucks on a quality one, with one of the main-brand drive systems. Otherwise, it ends up just being landfill eventually."
Keen to know more? Head here for all you need to know about Cyclorama.
The Cyclorama Festival Village will take over Butler's Green for two days starting Saturday, October 22.
There'll be bike retailers with stands showing off the latest e-bikes and accessories, alongside food trucks and coffee carts.
Each morning will kick off with a free "tips and tricks" session - aimed at anyone keen to get back on a bike but feeling a bit rusty, as well as providing a chance to pick up some e-bike specific tips.
In the afternoons, a whole bunch of ramps will be set up to create a bike obstacle course, and there'll be music by the Queenstown Funk Orchestra.
There'll also be a bike doctor in the village to provide advice on things like bike seat height and position.
Main image (Facebook/Charge About Queenstown - Moustache & Benno Electric Bike Sales): E-bike retailer Campbell Read says a good network of bike trails and an active population means residents in the Queenstown Lakes district are taking to e-bikes faster than elsewhere in the country.


---