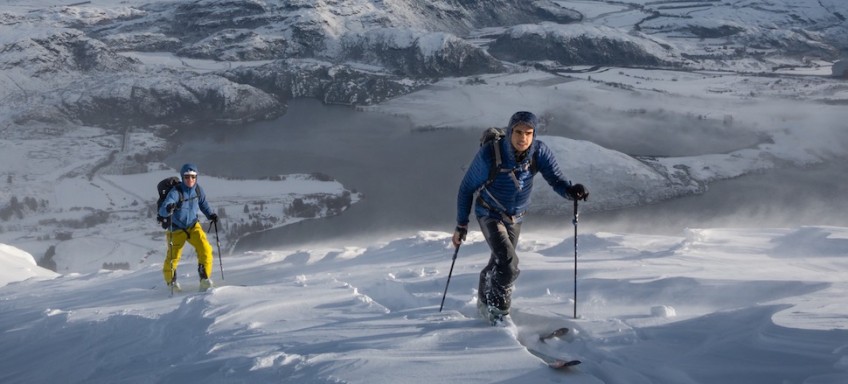 NZ Mountain Film & Book Festival a true community event
Jun 21, 2023
---
Doors open on the NZ Mountain Film & Book Festival this Friday 23 June with an exciting lineup of award-winning films and world-class speakers. The festival will run for five days in Wānaka (23 – 27 June) and two days in Queenstown (28 – 29).
The films are also available to watch via the Online Festival for one month from 23 June until 23 July. Festival Director, Mark Sedon says that while he is delighted that more people throughout NZ and Australia can enjoy the festival films in this way, he would also encourage people to come along to the live shows if they can.
"It's so much better on the big screen with the laughter and combined breath holding of fellow festival fans," says Sedon.
"We also have many of the filmmakers there in person introducing their own films which is pretty special. The main reason we started the festival 21 years ago, back in 2002, was to bring people together and to inspire them to undertake their own adventures and that's still our main aim."
Over the past two decades the NZ Mountain Film & Book Festival has built a reputation for attracting topflight international speakers and this year Sedon is thrilled to have American climber and skier Brette Harrington as a keynote speaker.
"We are truly honoured to have Brette Harrington visiting our festival," he says. "She is an absolute legend in the climbing world and many people will have seen her in the blockbuster film, The Alpinist."
Harrington is an accomplished rock climber with several notable climbs and first ascents to her name. In February 2015, she free-soloed Chiaro di Luna on Aguja Saint Exupery, Patagonia, becoming the first climber, male or female, to do so without the aid of any equipment or protection. The climb was ranked as one of the ten most legendary free solos to date.
Harrington will be speaking at three of the festival shows including:
- Guest Speaker event - Session 4, in Wānaka on Saturday 24 June 7.30 – 10.30pm
- Guest Speaker event – Wāhine Leading the Way, in Wānaka on Tuesday 27 June 7.30 – 10.30pm.
- Opening Night in Queenstown on Thursday 29 June 7.30 – 10.30pm
Local secondary school students will also have the opportunity to hear Harrington and her climbing partner Christina Lustenberger speak as part of the free schools' programme once again being held as part of the festival.
The NZMFF Charitable Trust has supported the schools' programme for the past eight years. This year 188 students from Wānaka's Mt Aspiring College have signed up to attend a session, and a further 118 will travel from Cromwell College and Roxburgh College with the Trust covering the cost of bus transport.
The Trust also provides free one-hour film sessions for families to attend in Wānaka, Lake Hāwea and Queenstown which are always well attended. These will take place on Saturday morning at 10am at Edgewater Hotel and the Hāwea Hotel and 10am Sunday at Edgewater.
Sedon says inspiring people to adventure in the outdoors is an important part of the festival but this can only be done if people are also educated about and inspired to look after the natural environment.
With this in mind, festival goers are encouraged to join the effort to reduce waste and help reach the goal of making the event carbon neutral. Over the past four years waste produced by the 3500 visitors to the Wānaka event has been reduced down to one rubbish bag, and just half a bag in Queenstown for another 1500 visitors.
This has been done by choosing café packaging that is compostable, not selling bottled water and providing free filtered water from a tap instead. Tea and coffee are provided for free to anyone who brings their own re-usable cup, and a compostable cup can be provided if necessary but must be placed in the hot compost bin afterwards and these are composted daily. Visitors are asked not to print tickets but to present them digitally instead.
Speakers' flights or road travel is offset via Air New Zealand's carbon offsetting programme or through a company named Ekos which uses the offset funds to support conservation projects in the Pacific Islands. In addition, the festival donates $200 per international speaker and $50 per NZ speaker to the Te Kākano Aotearoa Trust in Wānaka to plant trees locally. Festival visitors also have the option to 'buy' a tree at the festival café, adding a small donation to their order, which is then passed on to Te Kākano.
"We love putting on this festival, and we have always enjoyed strong support from our local communities so we want to make sure we can keep hosting it for many more years to come," says Sedon. "Grab your mates and come along to one of the festival shows, you'll definitely be inspired!"
More information about the NZ Mountain Film & Book Festival is available here.
View the 2023 NZ Mountain Film & Book Festival teaser video here.


---