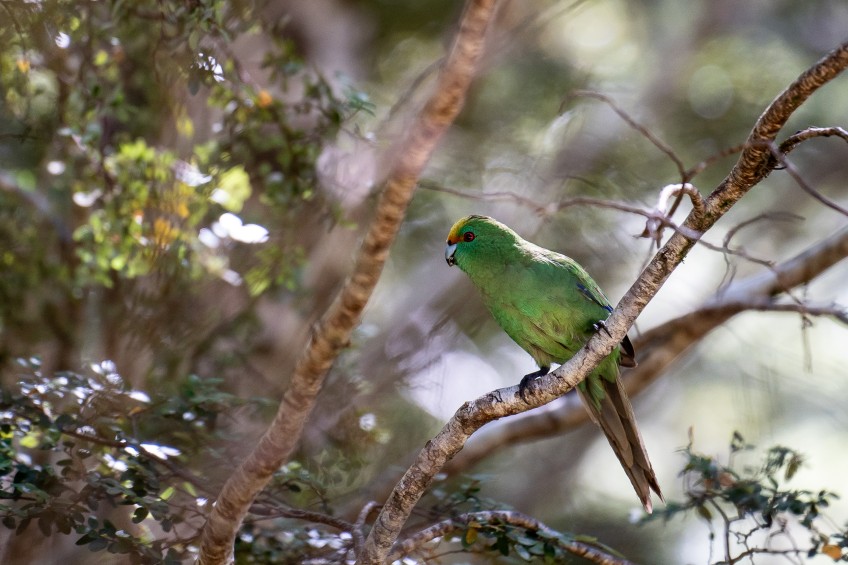 Making a safe home for endangered kākāriki in Fiordland
Aug 10, 2023
---
The Department of Conservation, mana whenua and a Queenstown tourism operator are on a mission to bolster numbers of a critically endangered native parakeet in Fiordland.
Only 350 of the kākāriki karaka, or orange-fronted parakeet, remain, making it one of New Zealand's rarest bird species.
Pest control is key to its survival, and more predator-free sites are needed to avoid extinction.
On Monday, national Conservation Week kicks off, and to honour it RealNZ is committing to working with the government agency and Ngāi Tahu to establish a new population of kākāriki karaka on Pukenui (Anchor Island) in Dusky Sound in the World Heritage area.
"Our support of the project began in 2022, where we paid for the replacement of all stoat traps on Pukenui (Anchor Island) to assist DOC with preserving the pest-free status of this island," RealNZ acting chief executive Paul Norris says in a statement to media today.
"Now in 2023 and moving into 2024, we will fund the construction and installation of bespoke aviaries that will be used to temporarily hold kākāriki prior to their release.
"The final step will be carefully undertaking the translocation of captive raised kākāriki karaka from the Isaac Conservation and Wildlife Trust and Orana Wildlife Park in Ōtautahi, Christchurch, to establish the new population in Fiordland.
"Our business connects guests with experiences in Fiordland every day, so caring for our backyard is crucial. Conservation projects are embedded in our business and we have ongoing consultations with DOC to identify opportunities to assist."
Only once previously has a successful and self-sustaining population of wild kākāriki karaka been established on a predator-free island in New Zealand.
The goal of this project is to grow the species from 350 to 500 birds.
Wayne Beggs, DOC's kākāriki karaka operations manager says all known populations of the birds in the wild are closely monitored, and efforts are made to control surrounding predator populations. But it is a big ask.
"Pukenui is being considered due to the vulnerability of kākāriki karaka to predators – pest-free islands and mainland sanctuaries have proven to be the best breeding grounds for forest-dwelling birds."
Te Rūnanga o Ngāi Tahu kākārika karaka representative Yvette Couch-Lewis welcomes the funding investment to support the wellbeing of the manu.
"We are grateful for the support of RealNZ. Their crucial funding to support the ongoing monitoring of the manu would give us the data we need to make good decisions to ensure kākāriki karaka can thrive on Pukenui."
Pukenui is a location RealNZ are also very familiar with, regularly operating week-long Discovery Cruises in Dusky Sound, the fiord where Anchor Island is located.
Relocating the kākāriki will be costly, and RealNZ estimates that they will need to raise $150,000 to fulfil the entire project.
To encourage donations, two seats will be made available to a lucky guest to join on the relocation voyage. Every donation through the RealNZ website will count as an entry to the ballot to win.
Further fundraising efforts will be supported through the annual RealNZ Conservation Ball, to be held at Walter Peak in Queenstown on Saturday, September 2.
RealNZ clients will also be encouraged to donate during Conservation Week, with an opportunity to learn about the kākāriki karaka, as well as wider conservation efforts.
"We are excited to be part of bringing kākāriki karaka waiata back to Fiordland. We hope this is only the start of the parakeet's return to wider New Zealand," Mr Norris says.
To find out more about the kākāriki karaka, visit the DOC website. To donate to the cause or find out more about RealNZ's conservation history and projects, visit the RealNZ website.
Main image (Supplied): A Kākāriki karaka, or orange-fronted parakeet.


---