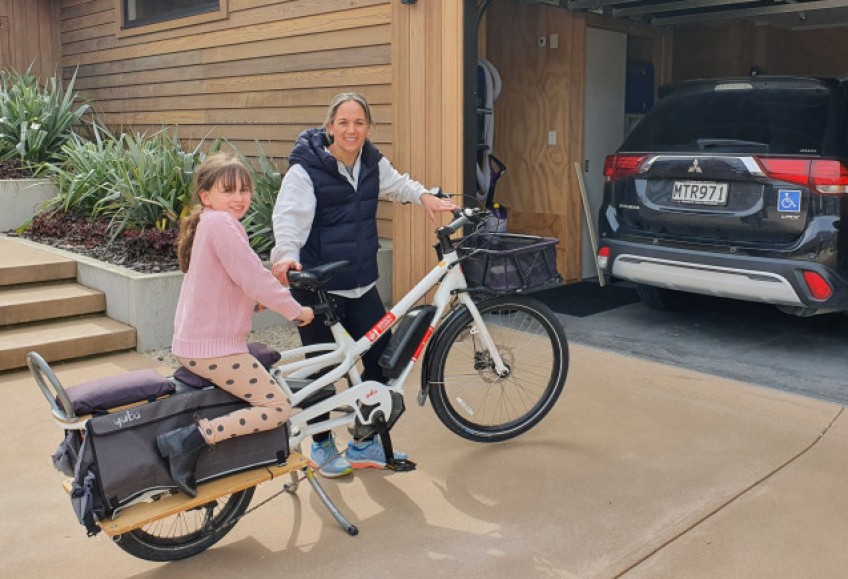 Kids as cargo: New e-bike trial scheme for Q'town whānau
by Heidi Bendikson - Jun 08, 2022
---
Families are being encouraged to pedal, not drive, to the school gate with the Lightfoot Initiative set to introduce cargo electric bikes to the Queenstown community.
The Lightfoot Initiative is a Queenstown-based charitable trust that was set up to try and get Queenstowners out of their cars and onto bikes, buses and footpaths.
In addition to lobbying the council for more pedestrian-friendly urban design, the charity has looked for ways to encourage parents and children to use alternative transport for getting to and from school.
Lightfoot Initiative board chair Amanda Robinson says they are finalising the last of their funding for the "E-Cargo Champs" scheme.

The scheme, which she hopes will kick off at Queenstown Primary before the end of term three, allows participating families the use of a cargo e-bike for four days before it is reconfigured and passed on to the next family.
The cargo e-bike they plan to use can carry more than 100 kilograms of cargo in addition to the rider and has space for children to sit on the back.
The bikes provide a "no-sweat ride experience" and were suitable for hills and Queenstown trails, Ms Robinson says.
"Many in our community are excited (by cargo e-bikes), but making a purchase of this magnitude is inconceivable without a chance to properly trial it first."
The initiative is based on the success of a similar scheme in Wellington, where seeding cargo bikes in the community has made users realise their potential and look to purchase their own electric bike as an alternative to a second car, Ms Robinson says.

Some schools in the Queenstown district, such as Arrowtown Primary School, Shotover Primary School and Te Kura O Kawarau, have more than 50 percent of students arriving by foot, bike or scooter, she says.

"The other schools have geographic issues that make it more complex for students to use active travel modes…(such as) hills, distance, busy roads."
At Remarkables Primary School kiss and drop, Dan Somerville from Jacks Point says he would not want to use an electric bike with his kids until there was a cycleway from Jacks Point.
"Not with that road the way it is."
But Kirstin Toms of Frankton says she could see herself using a cargo e-bike most days if she had one.
At Shotover Primary School Fiona Murray from Shotover Country says her five-year-old is not quite confident enough to walk to school yet, but she's not so sure about using an e-cargo bike to drop her off.
"I see one guy using one at Shotover School and it is cool, but probably still a bit foreign for me to use."
For older pupils, who make their own way to school, the Lightfoot Initiative is looking to team up with another charity to provide repaired second-hand bikes to those who need them, and it's working with schools to identify those who could benefit from the scheme.

The E-Cargo Champs initiative will also give older community members the opportunity to trial an electric trike.
Main image (Supplied): Victoria (right) and Harper Lethbridge tried out a cargo e-bike last year as part of the Lightfoot Initiative's 'Test the Network' project.
Read more: Last year Crux followed the Lightfoot Initiative's commuter challenge - where Queenstowners documented a week of attempting to ditch their cars in favour of cleaner, greener transport options.


---