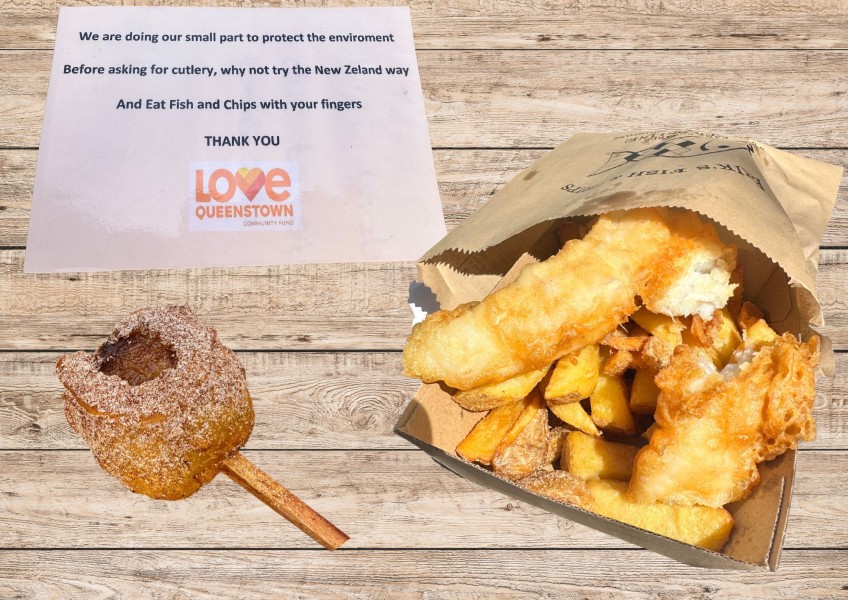 Debbie visits: Erik's Fish and Chips
---
Crux sales manager Debbie Knowles is regularly out and about visiting businesses big and small for work - she meets people with passion who help make our district special. Got a suggestion for a sweet spot for Debbie to stop? Get in touch and let her know!
Now, me being British, it's pretty obvious where I needed to venture next – Erik's Fish and Chips! It's been a good few years since I've indulged in Erik's due to an excruciating temporary relocation back to the land of Yorkshire puds, but yesterday was definitely worth the wait.
I'm sure Anna Arndt is a familiar face to many Queenstown locals – while she takes charge of the day-to-day running of Erik's, husband Erik is the behind-the-scenes DIY man. Originally farmers from the North Island, a series of events led them on a journey to Queenstown in 2015 to enjoy the snow, mountains and all the outdoorsy activities many of us come here for.
Their daughter, Heidi, owner of Altitude Tours (but working for Dart River Jet at the time) suggested to Anna and Erik they open a fish and chip shop in the CBD as there wasn't one there – the iconic trailer was soon purchased and that's the scoop on how Erik's came about to serve the best homemade chips I've ever eaten in my entire potato connoisseur career! The rumour they're the best chips in town is not a lie.
With a background in farming, it's a given that Erik's is sourcing the best, local ingredients they possibly can – their fish is caught off the South Island coast and the potatoes hail from Dunedin's McCain fields. Their carbon footprint and sustainability are at the forefront of their mind, and they're currently working with Love Queenstown to promote more eating with our fingers and less wastage.
Erik's is 100 percent gluten-free and every bite of their menu is coeliac-safe. What's more, their spring rolls, hotdogs, chips and mushy peas are all homemade, and the tempura batter on their fish is light, crispy and utter perfection. If you're a fish and chip lover like me, you'll know there's nothing worse than slimy, greasy batter that just falls off the fish and you start questioning all your life choices that lead you to that abysmal moment. Well, trust me – there's nothing abysmal about Erik's!
After many years of avoiding the 'culinary delight' of the battered Mars Bar in the UK, yesterday I put on my big girl pants and decided to step into the world of battered fruit. My oh my – if you've not tried Erik's deep-fried kiwifruit yet, get on that task right away! Think Churros mixed with apple pie. Yum! Invented by Erik himself, it definitely deserves a chef's kiss.
Anna and Erik are joined by a team of eight and one of their key points is to really look after their employees. Alongside a staff house, Anna highlighted how important it is for her to make sure her team are enjoying their time in Queenstown – whether they're here short term or long term, they deserve to have a bloody good time and Anna ensures that they do. Even though Erik's is open seven days a week and until 9pm during the summer months, Anna believes in work-life balance and structures the roster so all staff have their time off to do things they love and enjoy the Queenstown lifestyle. And that, ladies and gentlemen, deserves a round of applause!
Wait, there's more. Free parking – a thing so hard to come by in the CBD that it gets us all a little excited! That's right, you can order online for collection, pull up right outside Erik's and not be insulted by the parking meter. Also remember that Perky's welcomes food on board – a perfect place to unwind and relish those beautiful views with some delicious fish and chips.
It's Friday, for many the working week is done and you deserve a little treat, AKA Erik's. If you're feeling lazy, don't worry, they also do deliveries.
Anna's also very kindly asking for customers to complete a customer survey – perfect for when you have a few spare minutes while letting your fish and chips settle!


---