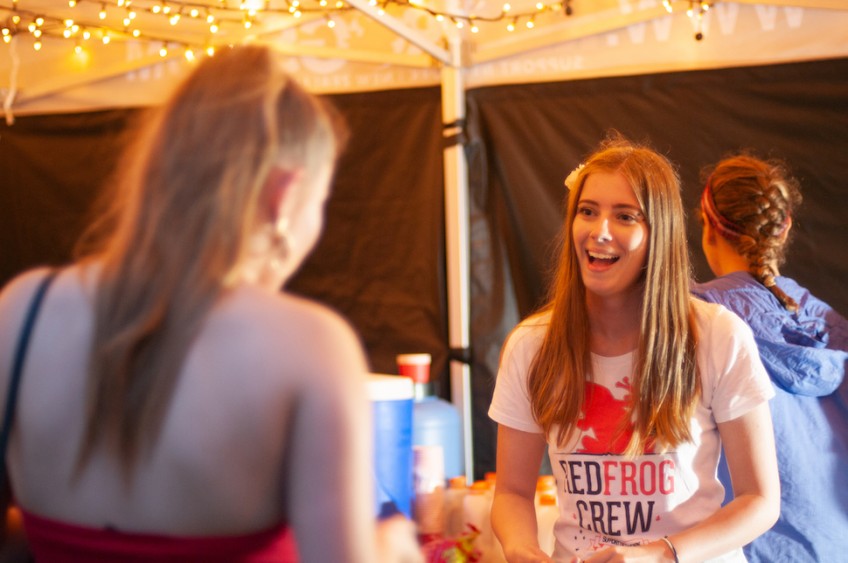 Celebrating the volunteers who safeguard a generation
Jun 19, 2023
---
Since 2008, Red Frogs volunteers have been safeguarding generations of young people in New Zealand.
At music festivals and concerts, New Years events, on University campuses, high school afterballs and at sporting fixtures, Red Frog volunteers have been on hand with a smile and quality banter to ensure young - and older - people stay safe while having fun.
For the past eight years Red Frog volunteers have been present in Queenstown and Wānaka during the New Year's celebrations, ensuring party-goers have a fun but safe time.
They've cooked thousands of pancakes, handed out hundreds of litres of water and their namesake, Allen's Red Frog lollies, all while looking out for young people – they're the friendly people willing to hold your mates hair back when they vomit!
They also put together some tips to help ensure revellers had a great time and keep safe during the New Year's period.
The theme of this year's National Volunteer Week is He wā pīataata – Time to shine, and here at Red Frogs we want to shine a light on our incredible volunteers. Each week Red Froggers throughout the country give their time and talent to serve young people. Without them our work would not be possible.
Red Frogs national coordinator Ray Thomson says the Red Froggers themselves are the key to the organisation's ability to serve New Zealanders for the past 14 years.
"Red Frogs volunteers are the backbone of what we do. Each week from Auckland to Dunedin Red Frogs volunteers are on hand providing support to young people, whether it is pancakes in a uni hall, handing out water at a Highlanders game or a chat at safe zone on the street.''
"This National Volunteer Week we want to shout our thanks to our Red Frogs - we celebrate you for the incredible people that you are. Thank you for selflessly serving the next generation of young people to ensure they are safe, and for all that you do - the seen and the unseen work."
"We are so grateful for you.''
Main image (Supplied/Red Frogs): Red Frog volunteer Rachael Hartley, of Christchurch, at the Red Frogs Chill Out zone during New Year's celebrations in Queenstown.


---