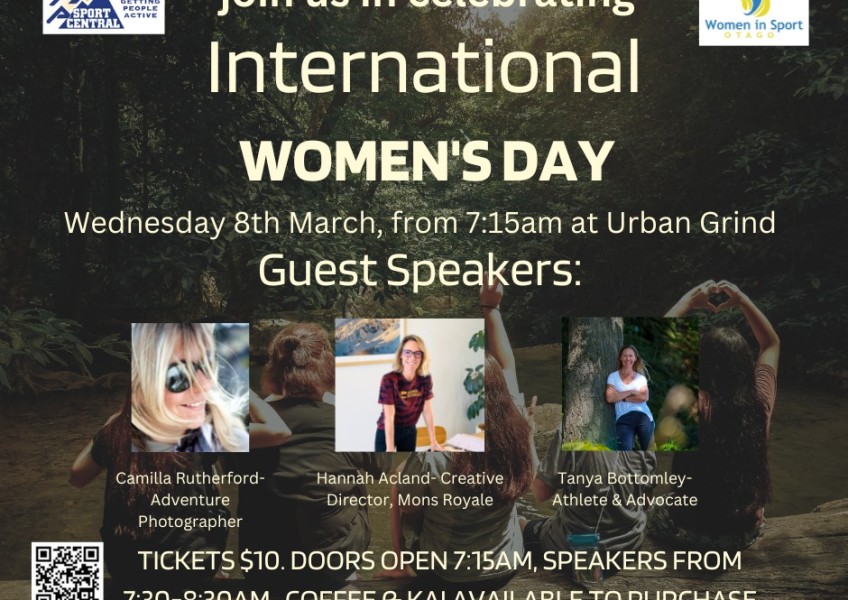 Celebrate International Women's Day and embrace equity
Mar 06, 2023
---
Sport Central invite you to celebrate International Women's Day on Wednesday 8th March, 7:15am at Urban Grind.
The theme for International Women's Day this year is 'embrace equity'.
For International Women's Day and beyond, let's all fully #EmbraceEquity. Equity isn't just a nice-to-have, it's a must-have.
A focus on gender equity needs to be part of every society's DNA.
It's critical to understand the difference between equity and equality. Equality means each individual or group of people is given the same resources or opportunities. Equity recognizes that each person has different circumstances and allocates the exact resources and opportunities needed to reach an equal outcome.
We have three amazing Wahine who will share their stories...
* Camilla Rutherford: Tarras based international adventure photographer will speak about her experience in making sure adventurous women are visible in the media.
* Hannah Acland: Creative Director at Mons Royale will share how Mons' embrace equity in their sponsorship of female athletes.
* Tanya Bottomley: Tanya will talk us through her inspirational journey in overcoming domestic violence and becoming an ultra-running athlete.
Everybody is welcome. Bring your team-mates, daughters, friends, and co-workers.
Doors open at 7:15am, speakers start at 7:30am and we will aim to finish at 8:30am. Coffee, muffins/scones available to purchase from 7:15am, breakfast orders from 7:30am.
Tickets are limited - please purchase online HERE.


---