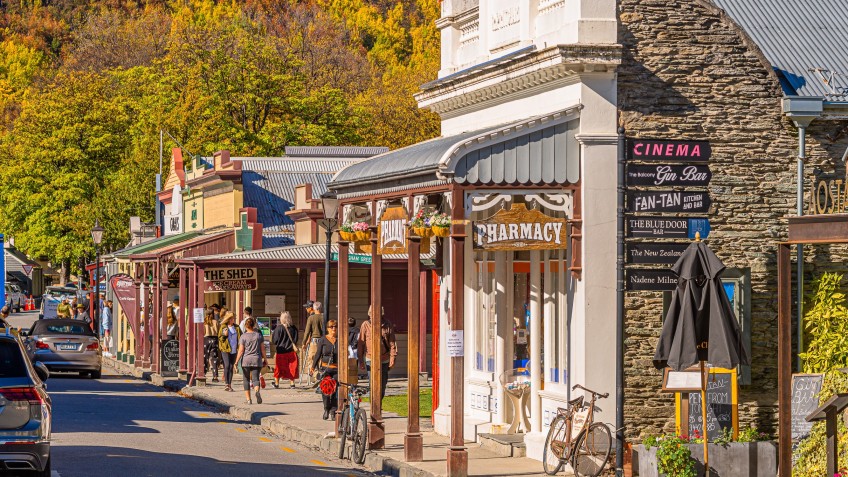 Arrowtown - is this NZ's most beautiful small town?
---
Arrowtown is in the running for this year's most beautiful small town award, battling it out against the North Island's Tūrangi to see who takes top spot.
They join eight other towns and cities shortlisted as finalists in the Keep New Zealand Beautiful's Most Beautiful Towns and Cities awards, a tradition dating back to 1972.
The annual awards shine a spotlight on urban areas across the country dedicated to enhancing their environment through initiatives aimed at less litter, minimising waste, recycling, and community beautification.
Arrowtown was crowned top small town in 2020, and Nicky Busst, the manager of the Arrowtown Promotion and Business Association, says to be recognised again three years later shows just how how much residents and businesses in the town are committed to the sustainability cause.
"Arrowtown is not just a picturesque town; it is a community dedicated to preserving the natural beauty that surrounds us," she says.
In a separate award category, Arrowtown's Buckingham Street has also made the final three for the country's Best Street award, alongside Beach Road in Akaroa and Gladstone Road in Gisborne.
Also up for grabs - the title of best loo, with comfort stops in Awanui, Rotorua and Auckland making the final three.
Keep New Zealand Beautiful chief executive Heather Saunderson says people across the country had the chance to nominate people, projects and places for the awards.
"The awards are a chance for Kiwis to put their community on the map and to celebrate a stand-out sustainability initiative in their town or city."
She says the awards are aimed at celebrating "the efforts of local government as well as those made by community groups, schools and individuals who are all striving to maintain and improve New Zealand's environment".
"This collective contribution is key to maintaining the biodiversity of Aotearoa and to creating a waste and climate conscious future for the next generations of Tidy Kiwis."
The judges chose the finalists based on the number of nominations as a percentage of population, the strength of their litter prevention and waste minimisation initiatives, community beautification projects and recycling projects, with all four categories holding an equal 25 percent weighting.
"This year Arrowtown's submission had the support of its community to win back the title, with an overwhelming number of nominations being made for the small town.
"Of note throughout the nominations were Arrowtown's ongoing commitment to food waste minimisation and projects such as SUC (Single Use Cup) Free Arrowtown, which focuses on minimising single-use plastics within the community, promoting responsible consumption, and reducing plastic pollution."
The winners will be announced on Thursday, November 9, at Parliament House in Wellington following the next phase of judging.
Judges will meet with Arrowtown representatives in September as part of the decision-making.
2023 award finalists
Most Beautiful Large City
Christchurch and Tauranga
Most Beautiful Small City
New Plymouth and Whanganui
Most Beautiful Large Town
Taupō and Whakatāne
Most Beautiful Small Town
Arrowtown and Tūrangi
Most Beautiful Tiny Town
Awanui and Leigh
Best Loo
Te Hiku o te Ika Revitalisation Group, Awanui, Okere Falls Scenic, Rotorua, and Waiuku Public Toilets, Auckland


---