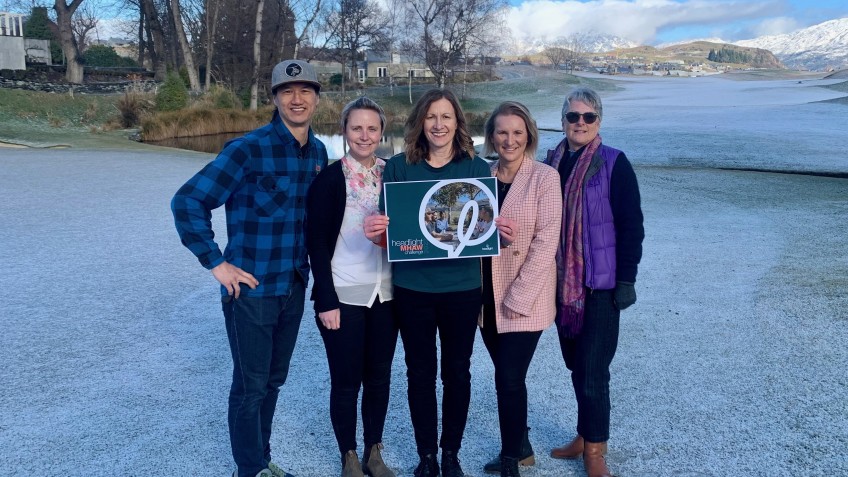 5 days, 5 ways: Challenge set for Southern Lakes
Aug 17, 2023
---
Organisations across the Southern Lakes region are signing up for a new challenge that aims to boost staff mental wellbeing and generate funding to support mental health in the community.
The Mental Health Awareness Week (MHAW) Challenge has been created by Queenstown-based charitable trust Headlight, with funding support from Te Hau Toka Southern Lakes Wellbeing Group.
Organisations can sign up for the challenge via the Headlight website and download a challenge kit for free.
The kit supports this year's MHAW theme 'Five Ways, Five Days' and focuses on helping people put the internationally renowned evidence-based Five Ways to Wellbeing framework into practice in fun and engaging ways.
It highlights one of the Five Ways to Wellbeing - connect, be active, take notice, keep learning, give - each day.
Ideas range from a cheese roll cook off, to a walk and talk meeting, to a little win bin, to a pass it on challenge, all designed to get a whole organisation involved in small activities across the week.
The kit also includes ideas for ways to get staff and customers involved in raising funds that will go directly towards supporting Headlight's mental health education projects in the Southern region.
Chief executive of Headlight Anna Dorsey believes it's critical that mental health remains a priority for businesses and the wider community, especially – particularly in light of Covid-19.
"We wanted to find an easy, practical way to share mental health education across the region and get people on board to proactively care for their wellbeing. By creating this kit using the Five Ways, we're helping business leaders create a win-win – follow these easy, free and low cost ways to support the mental health of their staff and help the wider community at the same time."
The kit was launched this week at Millbrook Resort, one of the organisations participating in the MHAW challenge.
Millbrook's people and culture manager Louise Baines says "the mental wellbeing of our team is really important to us at Millbrook, and we're excited about the activities we are planning for this coming event".
"We'll be holding a shared lunch, asking team members to 'pass it on' to help get people engaged in the five ways to wellbeing and are also planning fundraising opportunities with members to help us to give back to the mental wellbeing of our wider community. We encourage all local businesses to get involved."
Ziptrek Ecotours and the Queenstown Chamber of Commerce have also signed up.
Chamber chief executive Sharon Fifield says her team is up for the staff challenge and will be promoting the kit to its members.
"Being in business can be tough. There are many pressures on both employers and their staff with rising prices, cost of living pressures and even the basics like finding suitable accommodation. Checking in with each other on how we're doing is important. The chamber team is looking forward to getting involved and already has some 'net-walking' and team building planned for the week."
Organisations are encouraged to share photos and stories about their staff activities during MHAW and tag @Headlighttrust and @Tehautoka so they can be reshared via their online channels.
MHAW kicks off Monday, September 18.
Main image (Supplied): Left to right, Trent Yeo, of Ziptrek Ecotours, Louise Baines, of Millbrook, Anna Dorsey, of Headlight, Sharon Fifield, of the Queenstown Business Chamber of Commerce, and Jo O'Connor, WellSouth's health promotor and Te Hau Toka Southern Lakes Wellbeing Group member.


---