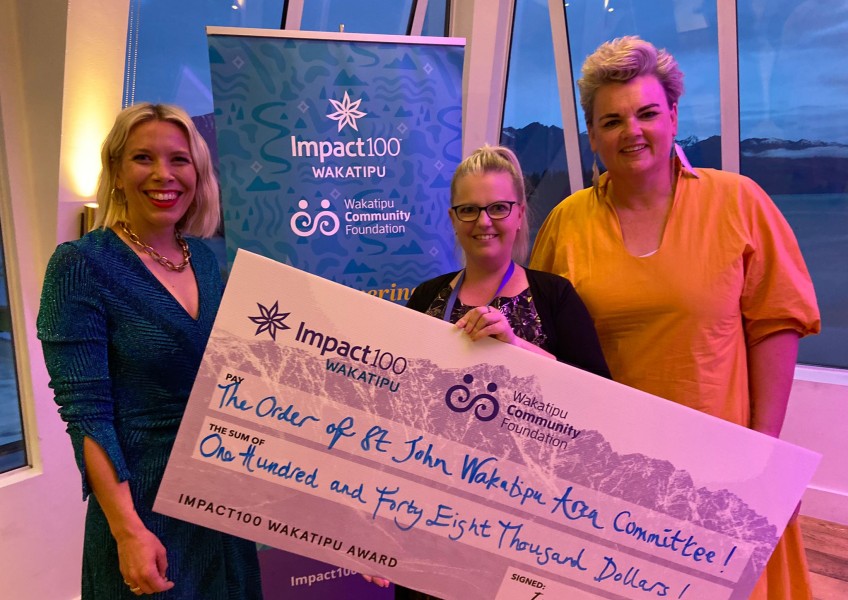 $148,000 to help connect elderly to care and community
Oct 31, 2022
---
A health shuttle that gets people in the district to vital healthcare appointments they otherwise may miss has been given a $148,000 boost from a group of philanthropic Queenstown women.
Hato Hone St John Queenstown says it's humbled to have been named the Impact100 grant winner at an event held in Queenstown last week.
Sarah Bloxham, the organisation's local community engagement co-ordinator, says the funds will help them make their services more wheelchair-friendly.
"This amazing grant means we can buy a new wheelchair mobility capable health shuttle, which will not only be used on our Monday to Friday health shuttle trips for medical related appointments but also on our weekend Friendship Drives."
The Friendship Drives are a free service run by volunteers aimed at elderly residents living independently in the district - The organisation picks up people from their home, taking them on an adventure in the community, followed by lunch or morning tea.
Ms Bloxham says the outings are aimed at addressing issues of isolation and loneliness in the community and promote connection, friendship and wellbeing.
"Our Friendship Drives have proved incredibly popular with both our volunteers and participants."
She says some of the Impact100 group have also now put their hands up to volunteer for the service.
"We were so grateful to be able to share our health shuttle programme with such a wonderful group of community spirited women."
Impact100 Wakatipu chair Clare Irons says "We know that having a new accessible vehicle will make a huge impact for users of the health shuttle. St John also shared what a difference it will make for those who enjoy being part of their friendship drives, enabling them to explore and enjoy the beautiful region we live in while building community."
A further $20,000 has been divvied up among four community groups selected by the Impact100 women - Youth Search and Rescue Trust, Life Education Trust Heartland Otago Southland, Turn up the Music Trust and Te Atamira Whakatipu Community Trust have each received $5,000.
Impact100 was established in 2020 under the umbrella of the Wakatipu Community Foundation and is based on a model that has been operating successfully globally for 21 years. The groups are tradionally made up of 100 women each donating $1,000 annually, with every dollar going back into the community.
Last year's winners of the Impact100 grant were Pivotal Point Charitable Trust and Routeburn Dart Wildlife Trust, who secured $100,000 and $85,000 respectively.
Hato Hone St John Wakatipu would really like to hear about anybody in the community who may benefit from this service, and from any new volunteer drivers for either the health shuttle or Friendship Drives. Please email Sarah on [email protected] if you can help.
Main image (Supplied): Impact100 Wakatipu chair Clair Irons with Hato Hone St John Whakatipu community engagement co-ordinator Sarah Bloxham and area chair Kirsten Dennison.


---