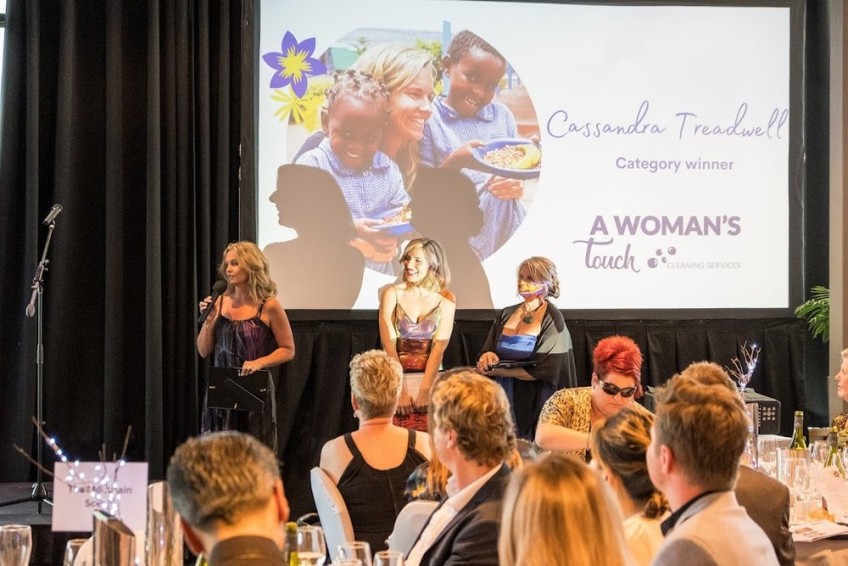 12 named as finalists in the Otago Inspirational Woman Awards
Jun 16, 2023
---
A woman who provides a home away from home for people living with disabilities, an advocate for cultural diversity, and entrepreneurs who have overcome adversity to get where they are, are some of the women recognised for their achievements in the 2023 Inspirational Women's Awards to be announced at the Gala for Women's Refuge Services.
This is the second year of the event, which aims to raise funds and awareness around domestic violence in New Zealand, with all funds raised going to the Women's Refuge Otago and Central Lakes Family Services
"Each year, we shine a light on amazing wahine who are making a difference in Otago while raising awareness around domestic violence. So many of our finalists are humble unsung community heroes and that's part of what makes celebrating them so special," said event Julia Strelou who is working with the refuges to organise the event.
Strelou says, "judging was tough," but the four judges were able to determine twelve finalists across the categories of Inspirational, Entrepreneurial, Community Recognition, and Resilience, along with five Highly Commended Medalists.
The judges included Strelou, Tina Mongston from Central Lakes Family Services, Casey Scott from The Women's Refuge, and Tracey Roxburgh editor of the Mountain Scene.
Of the 12 finalists across the four categories, nine hail from Queenstown, with other finalists coming from Alexandra and Dunedin.
"Annual fundraising events such as this gala will help with ongoing support in the community for women and children who are experiencing domestic violence," said Casey Scott the Women's Refuge.
The awards presentation and gala function are on November 25th, which is the International Day for Non-Violence Against Women. This is the first New Zealand event to combine an awards service for inspirational women and a fundraising event against domestic violence.
The finalists are:
A WOMAN'S TOUCH INSPIRATIONAL WOMAN
● Jennifer Belmont, Whakatipu Community Foundation (Queenstown)
● Olivia Wildey, Tom Pryde Centre (Queenstown)
● Sunitha Karunakaran, Lakes District Multicultural Council (Queenstown)
FOWLER HOMES ENTREPRENEURIAL WOMAN
● Carla De Nijs, Tru Woman's Gym (Queenstown)
● Karen Hattaway, Blu Kanu Restuarant (Queenstown)
● Kiara Moore, Aspiring Therapy (Queenstown)
RAY WHITE COMMUNITY RECOGNITION
● Rebecca Hembrow, Luma (Queenstown)
● Angela Connell, Flow Yoga (Alexandra)
● Claudia Macaskill-Hurley, Wellsouth & Founder of waiata rōpū in Taieri (Dunedin)
THE MOUNTAIN SCENE & ODT RESILIENCE
● Andrea Balona, QT Cats (Queenstown)
● Chenin Madden, Cre8ing Balance (Queenstown)
● Julie Moyle, A Star Is Born (Queenstown)
HIGHLY COMMENDED MEDALISTS
Elizabeth Bromley, Hetake NZs first menstrual health clinic (Dunedin)
Kate Holland, Good Bitches Baking (Queenstown)
Brooklyn Engleken, Words to Heal You (Dunedin)
Romana Haider (Dunedin)
Kirsty Sharpe (Queenstown)
Main image (Supplied): New Zealand Inspirational Women Awards 2022 - Skyline


---