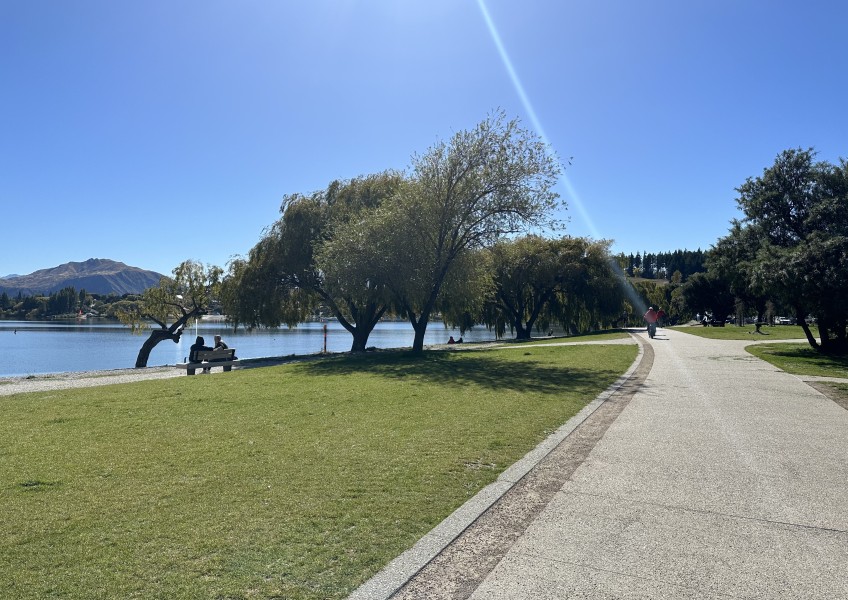 Renaming Wānaka's walkway: what we stand to gain
---
The topic of te reo Māori has been circulating in Queenstown Lakes the past week, with the renaming of Wānaka's 650-metre pathway, previously the Millennium Path now Te Ata Maumahara, sparking debate at the Wānaka-Upper Clutha Community Board meeting.
The change was passed, six to one.
Sole opponent councillor Lyal Cocks says he respects the council's intention to reinstate Ngāi Tahu's "footprints in the landscape", but "there needs to be some balance" between te reo Māori and English.
"Even though the path and tiles have been improved and altered, it is still our Millennium Path and should be named that."
Growing usage of te reo Māori was discussed in Wānaka on Sunday at the Festival of Colour, bringing Stuff journalist Carmen Parahi and TVNZ reporter Mava Moayyed to the district for a chat about 'Media and Race'.
Ms Parahi told the festival-goers about Stuff's Pou Tiaki initiative, launched in 2020, where the company looked over their 150-plus history of reporting, and issued an apologising after finding they'd marginalised and stereotyped Māori on many occasions.
She also spoke with Crux about Pou Tiaki's intentions and her reo journey.
"We realised that the media - like every structure and industry in New Zealand has colonial traditions."
She'd seen Māori repeatedly misrepresented in the media, and realised it was because of the colonial traditions within it.
Ms Parahi says it's similiar to the inequities in our health, education, and justice system, which were set up by European settlers for their benefit.
And as a result, the communities outside the "monocultural, eurocentric lens" had not had equal or fair representation in the news media, Ms Parahi says.
Pou Tiake is a guard post, Ms Parahi explains, and when one is on display, it's to remind people the area is protected, and people need to be aware of their behaviour.
A journalist since 2001, she's seen a lot of change in the media space. But there's been changes in her personal life too. As a 52-year-old woman, Ms Parahi notes that learning a language is more challenging for an aging brain, but it's good for it.
"I'm still not a fluent speaker and that really hurts my heart."
Ms Parahi says te reo Māori is very closely tied to its culture, so by learning the language, a person is able to get more cultural understanding too.
"It's a superpower being Māori" and those who aren't engaging with the language are missing out.
"If you have an English name and a Māori name, then you have what I call 'two for the price of one'.
"No one loses anything by using te reo Māori, if anything you're gaining something."
The average New Zealander knows more te reo Māori words than they realise, she says, with the average person having about 80 words up their sleeve, they're just not always aware of it.
But the language is "still in danger" because there are not enough fluent speakers yet, she says.

Ms Parahi noted that the language is gaining more recognition, and in the last month several te reo Māori words were accepted into the Oxford English Dictionary, such as koha, korero, rāhui, and whenua.
"Some schools like King's College - one of the most prestigious private schools in the country - they have compulsory te reo Māori for their students. So, if it's good enough for them, why isn't it good enough for everyone else?"
Part of the te reo Māori revitalisation in Queenstown Lakes, of course, includes the pathway name change in Wānaka.
Part of the council's Wānaka Lakefront Development Plan, a working group was established in 2020 for the pathway as it was going through updates, with local iwi, Ngāi Tahu, involved. They offered the name Te Ara Maumahara, which is now the new name.
Two thousand tiles line the pathway, which was created in the year 2000 to honour the new millennium. Some tiles were handpainted to mark the date of historical events, either local, national, or international.
There have been a few hick-ups with the pathway - the signing of Te Tiriti o Waitangi didn't have its own tile until last year, and many tiles were cracked and worn from council mowers running over them when looking after the grass. The tiles are to be replaced.
In the board meeting last week, Barry Bruce acknowledged there was a lot of passion for the pathway, and its special place in the community.
Kotahi Mano Kāika manager and Ōtākou Rūnaka representative Paulette Tamati-Elliffe explains the name.
"Te Ara Maumahara simply means a pathway of memories. While not a specific Kāi Tahu name, or the name of an ancestor, Te Ara Maumahara is a name that we can all connect with. As members of the Wānaka community, we are part of the pathway of memories.
"I believe increasing the visibility of Māori names on the landscape and ensuring our communities understand the meaning behind each name to be incredibly important for the revitalisation of te reo Māori."
Ngāi Tahu kaumatua Darren Rewi has observed the language revitalised through local education, with the district's two local high schools each bringing a Māori teacher on board full-time in the past year.

Queenstown's te reo Māori adults language classes are also full-up, with a mixture of non-Māori and Māori, he says.
"They can't meet demand...it's huge to see."
Living in Queenstown for 30 years, he's seen the Māori population grow.
Mr Rewi himself hasn't observed any angst towards greater adoption of te reo, but he thinks part of that is because of the space he's in, "because of the roles that I have in the community, people don't openly say that to me".
Otago Regional Councillor Alexa Forbes has seen the growth of adult te reo Māori language classes in the area first-hand, signing up in 2016.
"I remember, we used to scout around and try and drag our friends in to get enough numbers for the course. You don't do that now, there are just so many people willing to learn."
Ms Forbes has observed recent strife around the regional council table in early March, with Councillor Kevin Malcolm walking out during a karakia in a meeting of full council, disagreeing with its implementation.
Councillor Malcolm told Stuff that it was a "box-ticking" exercise, and "no one was listening anyway".
Ms Forbes has also heard objections to the renaming of the pathway in Wānaka.
"I don't want to speak for anybody else but I do think there are people that find it confronting and think there's something to be lost.
"I think there's only gains with the continued acceptance and inclusion of Māori language, Māori Kaupapa, Māori tikanga – bring it in, and it will enrich us all.
"I'm hoping that pushback from people who don't like seeing this happen doesn't slow things down."
Over her language learning journey, Ms Forbes says she feels more connected to herself, New Zealand, and also her family history through researching her whakapapa.
"I can look at these mountains around us and these waterways around us and know who they are – that might sound weird to a Pākeha brain but when you've had enough time in a Māori class, or tikanga class (it doesn't sound weird)."
She uses the Kawarau River and mountains as an example, named after a Māori chief, which through her learnings she now knows the stories of.
The beginning of her reo journey coincides with her appointment as councillor at the Queenstown Lakes District Council in 2013, when she felt it was important to understand treaty partnership for the role, starting by reading the treaty itself and taking short online courses.
Teacher of adult te reo classes in Queenstown Cory Ratahi (Ngāti Hourua and Ngāti Awa) says it's good to see people signing up to learn the language, and to be part of the "solution" to revitalise it.
"As a Māori person, our identity and our culture is so closely linked to our language. And so, with the survival of our language, we have the survival of our culture."
Mr Ratahi says he wasn't beaten for speaking the language, "that was the generation before me", but there were other challenges going through the New Zealand education system in the 80s.
"In my generation, what I found was a different struggle in that it wasn't cool to be a speaker of Māori.
"We were given this message that our language didn't really give us any future opportunities, especially from a work perspective…that it's not going to pay off in the long run, so why bother.
"I ignored my culture, ignored my language, because I wanted to learn skill sets that could be transferred more easily into a career."
But now, there are far more job opportunities for Māori who know the language and culture, he says, in roles supporting the language, the culture, or in a consultancy capacity.
He believes the earlier advice was "misinformed". He later reconnected with the language moving back to New Zealand in 2010 after spending some time building a career overseas.
Describing himself as an optimistic person, he sees big things for the future of the language – one where it won't be strange to see fluent speakers on the streets talking to each other.
He admits there are some challenges with the language becoming more popular, sometimes becoming tokenistic, but he's noted it's rarely for "purely money-making" purposes.
"Tokenism comes more from people who wanted to be involved, but aren't informed...through a little bit of help, and a little bit of clarification, and a little bit of correction, we can put a lot of the people who probably start off approaching our culture from a tokenistic perspective on the right path."
He says there are people with bad intentions everywhere in every situation, and sometimes that comes into te reo Māori language use.
"Like anything in this world, if someone is really good at something, they can make someone else feel inferior who doesn't know it as well. That happens even within our language, you will get people who are really good at our language, making those who don't know our language feel bad about it."
But, from his personal experience, a great change he's seen with the language growing, is a lot more non-Māori wanting to be involved with learning the language.
And for those wanting to jump on the waka, but unsure where to start he shared his advice.
"There are times when, especially when you're on your early learning journey...where you really should just sit and listen and take it in, and learn and listen and take it in.
"You don't always have to be part of the engagement, especially at the early stage. But there will come a time when you reach a particular level. Where it's your turn to engage."
Main image: Wānaka pathway, Te Ara Maumahara

---