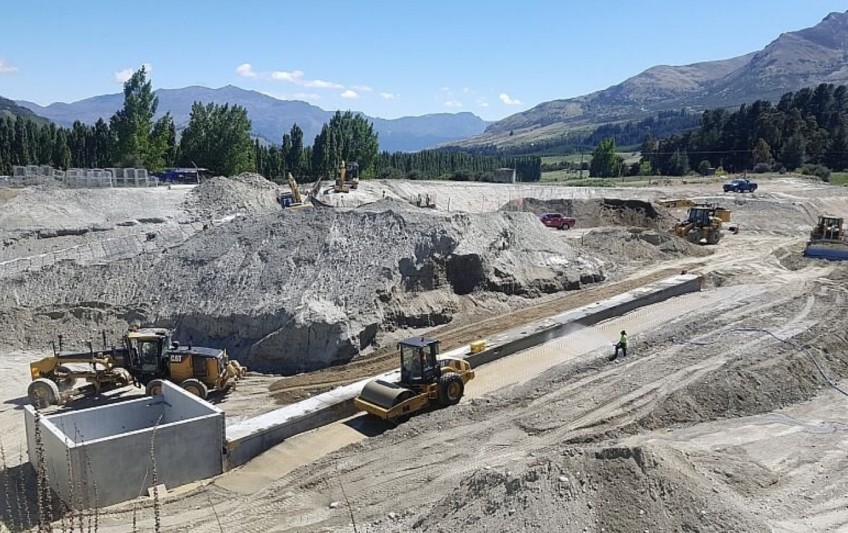 QLDC engineer writes own $448,000 consulting deal
---
An engineer who spent 18 months with the Queenstown Lakes District Council as an employee then wrote his own consulting terms that resulted in a total of $448,861 being paid without the council going through an initial procurement or bid process.
Andrew Tipene is an infrastructure development engineer based in Hamilton. He joined the QLDC as an employee in October 2017, working on projects such as the Hanleys Farm Flood detention dam (main image above).
The QLDC has told Crux Mr Tipene then left in March 2019 to provide full time care for a family member back in the North Island.
However, as he was leaving Mr Tipene drafted terms for the QLDC to sign that would allow him to finish working on some QLDC projects via his newly formed consultancy business. This contract was signed by the QLDC without going through any formal bid or procurement process – as required by the council's 2016 procurement guidelines and policy documents.
Instead, Mr Tipene was paid an initial $178,451 until he was made part of a formal external consultant's panel. The panel is part of an approved bid process under which Mr Tipene was paid a further $270,410 to date.
| | |
| --- | --- |
| Year | Amount $ |
| 2018/2019 | 21,600.00 |
| 2019/2020 | 108,975.00 |
| 2020/2021 | 131,205.00 |
| 2021/2022 | 187,081.26 |
| Total | 448,861.26 |
QLDC's breakdown of the amounts paid to Mr Tipene since he left the council in 2019.
In responding to Crux questions under official information legislation the QLDC does not explain how Mr Tipene was able to carry out the initial work from the North Island while caring full time for a sick relative. Crux has approached Mr Tipene via LinkedIn for comment. No other public contact details for him are available.
Mr Tipene's LinkedIn profile does not make any reference to his employment with the QLDC.
Crux asked the QLDC if they had carried out a cost/benefit study to determine that paying Mr Tipene a total of $448,861 was the most cost-efficient way to get the required work done.
This is their reply:
"A formal BCR (cost/benefit plan) has not been done. However, (QLDC) Planning and Development's business model is to use a mix of in-house and external consultants, such as Mr Tipene, to undertake the required work efficiently and effectively.
"Consultants are used for work due to a number of factors including a) To manage the peaks and troughs in workload associated with consent applications to ensure in-house resources are used as efficiently as possible and to meet statutory timeframes; b) The difficulty in engaging in-house engineers in a very competitive engineering market with high living expenses in Queenstown; c) The difficulty in engaging engineers with the skillsets and experience in the Queenstown area that we require."
QLDC also added that they had carefully checked Mr Tipene's invoices and detailed time sheets, with the cost being invoiced on to people applying for QLDC building permits, reports or certificates.
Crux has covered the extensive failure of the QLDC to follow its own procurement rules designed to stop "jobs for mates" arrangements. The Office of the Auditor General made extensive criticism of QLDC following their investigation last year.
Read some of our key stories on this issue:
QLDC Manager hands $780,000 contract to staff member
How Crux discovered the ZQN7 scandal - who did what.
QLDC tells Crux their "jobs for mates" rules were being followed - but that was not true.

---