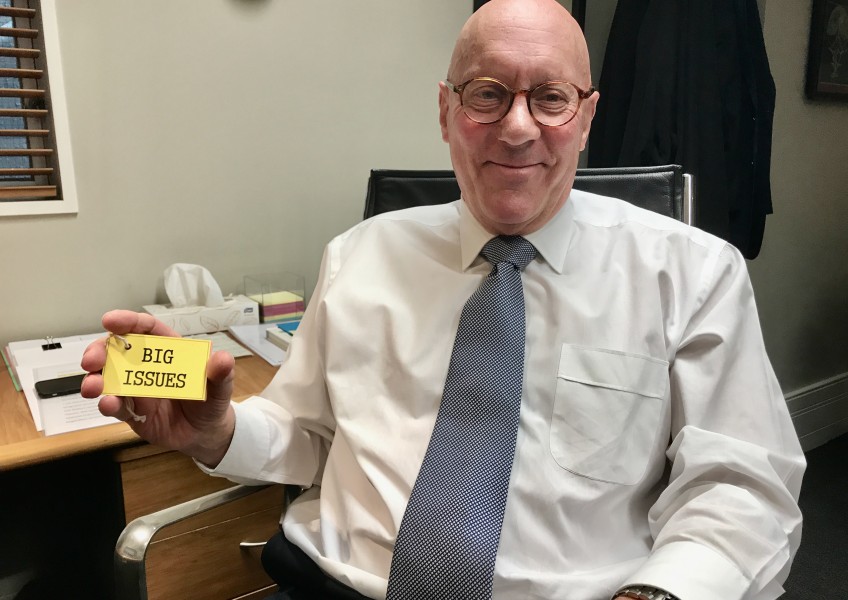 Jim Boult – The rise and fall of a strong mayor
---
Editorial/Analysis
Back in 2016 a strong mayor was clearly what our community wanted.
The district was booming – at least tourism was booming – but the social licence for tourism was frayed around the edges as we all became frustrated with picking up the infrastructure tab via our rates and fighting with the 3 million a year visitors for space and access to our own towns and roads.
So, Jim Boult was voted in on a business ticket. A "let's get things done" ticket and a "lets tell Wellington we need help" ticket.
So far so good. Then it got even better as our new mayor helped usher in the $2 bus scheme and promoting the affordable housing model via a mayoral task force. To be fair though both initiatives were already under way, but there's no doubt Boult's advocacy helped produce an improved result.
But – you get the picture. Boult seemed the right thing at the right time, and I even wrote in 2017 this piece for the Spinoff praising Mayor Boult's ability to galvanise a fractured community into some semblance of pride and purpose.
Jim Boult deserves points for this – he was confident and that's what we all wanted. A mayor who could stand as an equal power in negotiating with Parliament and the government of the day. He was also accessible and direct – both great qualities in a mayor.
Writing this I actually want to delay getting to the "but" side of things. Journalists, like everyone else, actually prefer good news to bad news – we live here too.
But our job is to hold power to account, and there's no avoiding the time that the Boult train started to come off the rails. We did not know it in 2016, but the skeletons in the closet were already starting to rattle in amongst the cobwebs.
Queenstown detectives investigated a real dirty politics episode where even during the 2016 election campaign a scheme to discredit Boult was launched. The police investigation was into possible blackmail, where Boult was in effect being threatened with damaging information relating to his business history – the very strength he was standing on.
In the end the police ended up taking no further action, but the smear campaign raised the spectre of Boult being caught up in the $26 million collapse of Stonewood – a housing company subsequently purchased by the Chow brothers. We did not realise it at the time, but Jim Boult walked almost directly from the Stonewood wreckage into the mayor's office. Whether you like him or not – that took some significant courage.
I'll come back to Stonewood shortly because in many ways that is the Boult story. A talented and self-assured man, from a modest background, who arguably flew too close to the sun.
While the Stonewood legal action ground slowly through the liquidation and court system, Boult continued to bravely build political capital in the Southern Lakes.
He was clearly excited at the prospect of mass tourism growth. By 2016 that was in the Boult DNA via his time as an owner of Shotover Jet, as the CEO and Director at Christchurch Airport and then as Chair/Director of the massive Real Journeys/RealNZ tourism group in Queenstown.
Then there was almost a visible twist in the mayoral journey during the approach to the 2019 local elections. Airport expansion was the main talking point – as mass tourism peaked and the social licence moved from being frayed around the edges to being seen as an outdated piece of permission that was now clearly withdrawn, at least until some type of balance could be restored.
Very few people were actually anti-tourism at that stage or even now – it was more the perception of "too much", of greed and of a perceived lack of concern for both residents and the environment.
But rather than picking up on those issues Jim Boult seemed to accelerate a path towards what the community was saying – quite clearly – we did not want. At the time many accused the mayor on social media of being tone deaf. Then, through a close friendship with former Queenstown Airport Corporation CEO Colin Keel and his partner Ian Jackson, Boult doubled down on a growth agenda against some fairly stiff community headwinds.
Getting elected in 2019 was largely down to a much-vaunted community survey that turned out (post-election) to be poorly delivered and the surprise involvement of QLDC CEO Mike Theelen – as discovered by a bold official information request made by councillor Niki Gladding.
Sadly, it was all pretty much downhill from then on. A High Court judge decided that the mayor, Council and airport team had been "evasive and misleading" in lobbying for Wanaka airport expansion. News started to emerge of the Lakeview project where QLDC entered into a highly risky gamble that seemed to total somewhere between $40 and $90 million dollars depending on details in an agreement that was agreed by QLDC CEO Theelen under sole delegated authority that he was given in 2017.
Mayor Boult's name was linked to Lakeview via "a minor conflict" where the mayor was on the advisory board of Downers who did much of the site preparation work. That work ballooned from under $20 million to over $57 million due to asbestos and changes in scope.
Suddenly a decision not to sell council land for $42 million (instead leasing it to the developers) seemed unwise – to put it mildly.
But there was more. The procurement scandal, Boult's 2019 election expenses, a surprise move where he suddenly stood down from the Board of RealNZ and then – Stonewood.
Boult and co-defendant Brent Mettrick settled the Stonewood case last year for $3.5 million, but then it was discovered that most of that money was going to property developer and arch-enemy Chris Meehan – not to the creditors who are still owed $26 million. Meehan has funded the legal action because, as he told the court, he did not consider Jim Boult fit for public office.
Crux is still fighting through the courts for access to the Stonewood court documents and there is evidence of a growing initiative by Stonewood creditors to file their own individual recovery actions against Boult and Mettrick.
Boult's legal team is doing everything they can to block these moves, but the situation has a sense of inevitability about it.
So as Jim Boult heads off for an extended holiday this weekend, how should we view the Boult mayoral years and what lessons lie here for our new mayor?
Here's the Crux post-mortem, classified by positive and negative, plus suggested lessons for our new mayor to be.
Positive:
Strength and confidence
A champion for the Southern lakes
Early focus on public transport and housing
Strong response to Covid
Keeping council meetings on track and avoiding dissent
Tough negotiator
Close relationship with QLDC CEO Theelen
Negative
Not listening to the community
Too much control over elected members and their voting
A single industry agenda of advocacy
Not a natural media performer
Failure to control procurement, Lakeview and other issues
Close relationship with QLDC CEO Theelen
Lessons for a new mayor?
Listen to the community
Tackle QLDC secrecy and poor communication
Open democracy – no backroom deals
Distance from QLDC CEO – employer/employee relationship
Engineer district image away from greed towards guardianship / kaitiakitanga
Share the job with all of the elected members
Crux will have up to the minute local election results and analysis this Saturday, October 8th.

---